As you know, The Melloton Ranch is located off a dirt road somewhere in northern Vermont. It's roughly 25 miles east of Burlington, Vermont.

Jerry's town is about 32 square miles, yet it has only about 1200 residents. Jerry and Mali live on 5 acres of land, accessible only by a series of dirt roads, and when it snows, he has over 500 feet of driveway to shovel! (I know---I helped shovel it a few years ago when a MONEYPIT went wrong!)

The thermometer at Jerry's house showed the temps at around freezing. This was November, after all, so you have to bundle up a bit. Ohhhh, don't worry, it gets a heck of a lot colder than this in the winter!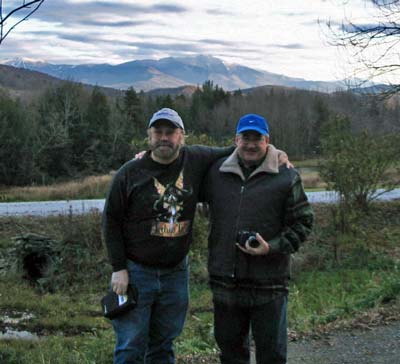 There's something about fall and late fall in New England. The weather is crisp, and every breath feels energizing. Although the air is cold, the sun warms you. There's the smell of the wood stove in the air, inviting you inside for something hot to drink and a few minutes spent by the wood stove warming yourself up.
Even though winter can be fierce, those in northern New England are rewarded by other times of the year like this.