MONEYPIT SEPTEMBER 8-11, 2006
MELLOTRON RANCH, VERMONT, USA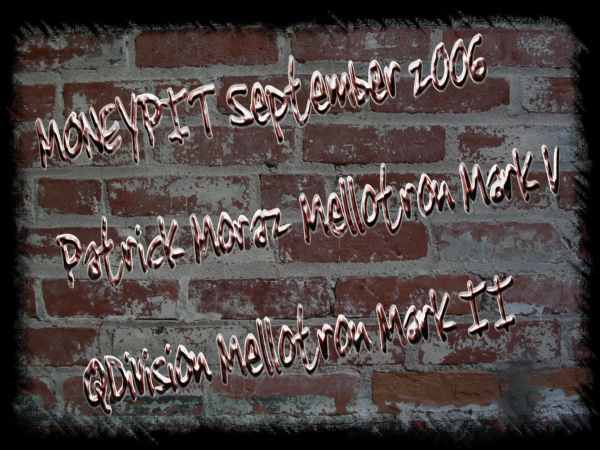 It was back to the Mellotron Ranch in Vermont for the unveiling of two machines refurbished by Mellotron Professor Jerry Korb:
| | |
| --- | --- |
| | Mark II #210 formerly owned by Mike Pinder of the Moody Blues |
| | Mark V #5/104 formerly owned by Patrick Moraz of the Moody Blues |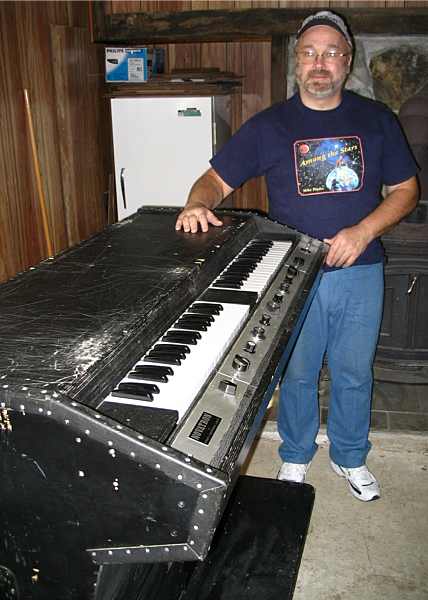 What's more astonishing is that all original Mellotron models were present, which is quite rare outside of Streetly Electronics in the UK.
| | |
| --- | --- |
| | Mark I - Jerry's own "Julia" |
| | Mark II - The "QTron" |
| | M300 - Jerry's machine (yep, it's the one that fell off a forklift...but it's much better now) |
| | (2) M400 - Jerry's original machine plus Your Webmaster's #805 in "skellotron" form |
| | Mark V - Although the case was replaced by Patrick Moraz and some of the electricals were rearranged, the mechanicals/electricals are now pretty much stock Mark V with a few improvements |
Additionally the custom JK MK6 was handy. (If you've never seen the JK MK6 before, click here for its introduction at the Philadelphia Mellotron Symposium in 2001.)
INSIDE: Hear new music by Ken Leonard and Jimmy Moore -- with special guest drummer Jimmy Moore, Jr. -- in the video clip of the reveal of the QTron!
Now...Let's get started! -->

Photos by Jerry Korb, Ken Leonard, Jon Lupfer, Ben Vehorn, and Lee Richards
Text by Ken Leonard, some material provided by Jon Lupfer
and Jon E Salley
Editorial by Jerry Korb, Jon Lupfer, and Jon E Salley
Video by Ken Leonard with music by Ken Leonard, Jimmy Moore, and Jimmy Moore, Jr.
Hosted by Jerry and Mali Korb
The Mellotron name is owned by Mellotron Archives. You can purchase a Mellotron, parts, and service through there.
Streetly is another place for Mellotrons---machines, parts, service, and the occasional odd bit of humor on the Mellotronists YahooGroup.
Under no circumstances should you use any of these web pages to fix your Mellotron, car, boat, house, or cat. No, no, no. Find an expert.
No Mellotron was harmed during this episode. Vermont was not harmed. A few brews were harmed, though (mmmmmmm...). Mrs. Korb makes the best raspberry jam of anyone anywhere---period.