This trip we will answer that all-important burning question:
How many Mellotrons can you fit into an Acura Integra?
MONEYPIT VERMONT
MEMORIAL DAY WEEKEND, 2004
It was back to Vermont again for MONEYPIT...Route 93 out of Boston, to 89, to 100, to 15...and it's a long haul. But it's worth it!
The weekend's mission: Tune up Paul Santo's newly acquired M400 and spiffitize his EMI M400 for sale.

Final result: You'll be hearing the M400 on Paul's upcoming work, and someone has likely purchased the EMI by now (give me a holler if you did!).

But I get ahead of myself.
You can't ask for more beautiful weather or a better place to be. The best part? No snow this time! :-)
We set up the machines in the basement work area, putting the guts of the EMI onto some saw horses to hold it up, creating what we call a Skellotron. Skellotrons make Mellotrons of any species easy to work on, and transporting a Skellotron is much easier than hauling around the whole thing.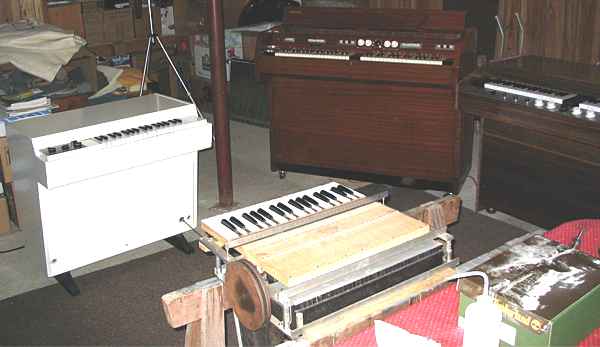 In the background of the above picture you can also see Jerry's Mark I Julia and half of his home-made JK-MK6.
Work would get underway on Saturday. Meanwhile, we had a little celebration: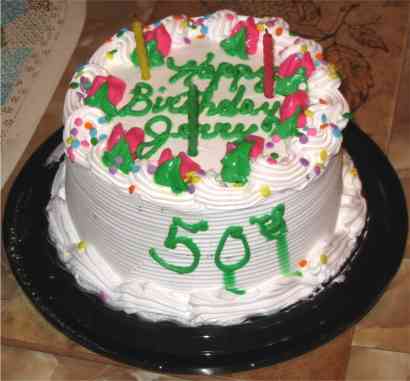 Mellotron Professor Jerry Korb turns 50!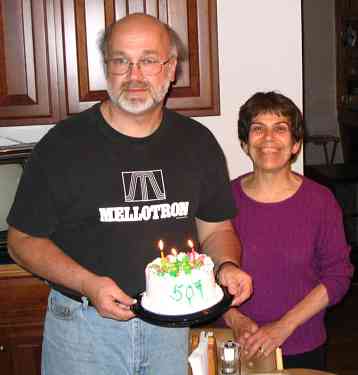 Jerry and Mali carefully observing Vermont's fire codes
and not even attempting to represent Jerry's age with lit candles
So, Jerry! What's your secret to remaining so young, trim, and virile all these years?

Ahhh, good dental hygiene. I should have known.
We chowed down some birthday cake and called it a night. The next day we'd get to work...-->

WEB PAGE CREDITS, DISCLAIMER:
Photos, text, ulcers, and stress by Ken Leonard
Corrections and interesting toothpaste suggestion from Jerry Korb
Hospitality and birthday cake courtesy of Mali Korb
In no way is any web page out here a guide for you to fix your Mellotron or how to celebrate a birthday. Your machine is your problem, as is your age. Streetly, Mellotron Archives, and the folks on the Mellotronists list may offer you tips on dealing with either and probably a lot better than I could.
The Mellotron name is owned by Mellotron Archives. Insert appropriate trademark statement here.