WORK GETS UNDERWAY
Your Scribe ready for work.

Note EMI M400 #103S Skellotron on the right. In lieu of carting around your Mellotron in its case, just rip out the guts and put it all on a saw horse!
Our tasks for the weekend:
| | |
| --- | --- |
| | Drink stout. |
| | Go over Paul Santo's M400. Your Scribe had replaced the controller, but something wasn't 100%. We were there to find out what. |
| | Drink an intermediate stout. |
| | Get the EMI machine ready for sale. This meant putting in a CMC-10 and adjusting it to be as good as it could be. |
| | Finish up with a decent stout. |
My job was the EMI, and Jerry's was the M400. My job was pretty easy---I just had to get the EMI running. Jerry had to get the M400 right.

Oh dear...this isn't a good start, Jerry-->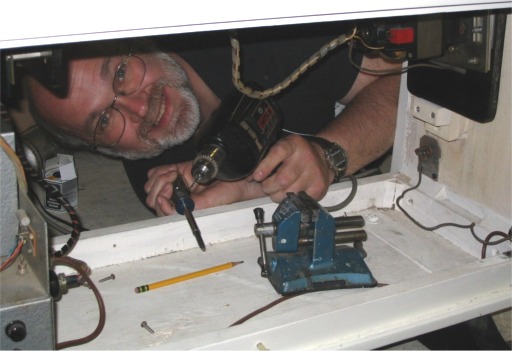 The M400 was in pretty good shape. It had been bodged a little in the past (someone stuck an amp and speaker in it), but those items were long gone. Its power supply was even rebuilt recently.

Overall condition was good, but it had an annoying problem with key warpage and rubbing. We decided to do some part swappage between the EMI and M400, given that the EMI's keyboard was in decent condition.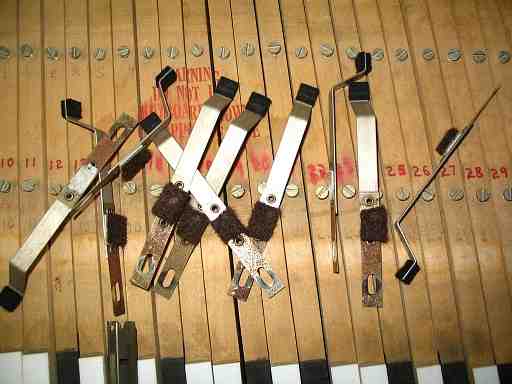 ...not so the pressure pads, which had the "afro"-style felt that was way too thick. OK, those wouldn't do.
We dismantled the keyboards on both machines and migrated the EMI keys to the M400. This was a very tedious operation, as it required the removal of 70 keys, pinch rollers, and pressure pads. Yow!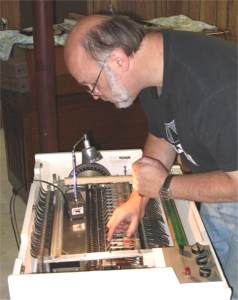 And then we had to put them all back together again!
When the key migration was done, we found that the keys were rubbing a bit on the cheek blocks of the M400. There's no surprise there, as these machines were all pretty much hand made. A few passes with a file, and we were in business...
...OK, at least for the keyboard. A few other things dogged us...

Yep, in its heyday, thousands of Mellotron tape heads were made. Dave Kean (of Mellotron Archives) used to give away Mellotron tape heads because he had so many. Paul Santo has a bunch---all "new old stock", never used.

Believe it or not, one came in handy! One note was much more dull than the others, and it turned out to be a bad head. The surgery on these is quite easy, but one has to be very careful when soldering the wires back onto the head, as the wires are very thin.
After that the machine was almost ready. But the more Jerry played it, the more I could hear that something wasn't quite right. Sure enough the SMS-5 motor controller in it needed adjustment. Jerry gave it a few tweaks as I listened and he watched with a volt meter. I'd tell him when it didn't sound right, and sure enough he'd notice that the voltage wasn't in SPEC. After a few minutes we had the controller adjusted to where it needed to be. The M400 was done.
Meanwhile back at the Skellotron...Jerry got in the "before" and "after" pictures but I did all the work!

I rewired an old CMC-10 back into the machine, got it fired up (and thankfully it didn't go up in flames), and put the M400's keys on. I also de-afro'ed the pressure pads and adjusted the keyboard to be...well...tolerable...OK, maybe not. This was an EMI M400, folks, and it had a CMC-10. I guess it depends on what your definition of "tolerable" is.
And that...was that! Pretty light work, if a little tedious with all those keys. At least they're numbered for easy assembly!
We had some parting shots for Monday...-->