MONEYPIT 2003
March 15-16, 2003
The Korb Residence, Vermont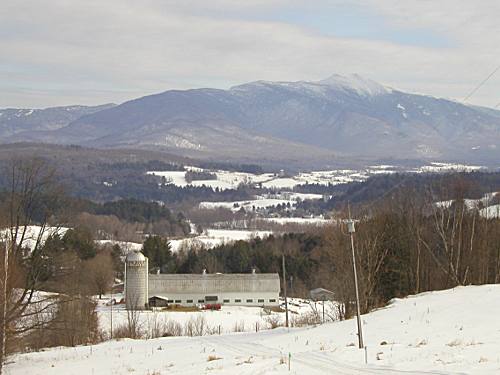 Mt. Mansfield, Vermont's highest peak
This was only the second gathering of MONEYPIT (Mellotron Owners Needing Excessive Yen for Purchases for their 'Trons -- a.k.a. Mellotron Owners of New England), and it was the chance to say HELLO to Julia (Jerry's restored Mark I) and good-bye to Ken Merbler, who was set to leave for Florida where he now lives.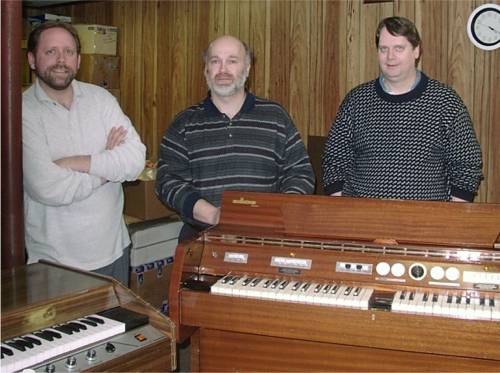 Ken Leonard, Mellotron Professor Jerry Korb, Ken Merbler
Mellotrons in front: JK-MK6, Julia
Our first MONEYPIT gathering was also at the Korb residence in northern Vermont back in 1998 (no, I'm not getting old). It was during that visit that Ken Merbler and I were educated on the fine art of Mellotron adjustment. I still remember snapping a few old, worn tapes in a frame that Jerry had---hey it was funny, and better to learn on throw away tapes than ones you care about! Jerry also introduced us to his M400 (bought new in 1973) and his M300 (ex David Kean, also the one that was dropped and had its case split---although you'd never know it given the work Jerry put into it). At the time Jerry was also working on the JK-MK6, which is Jerry's home made version of the Mellotron Mark V.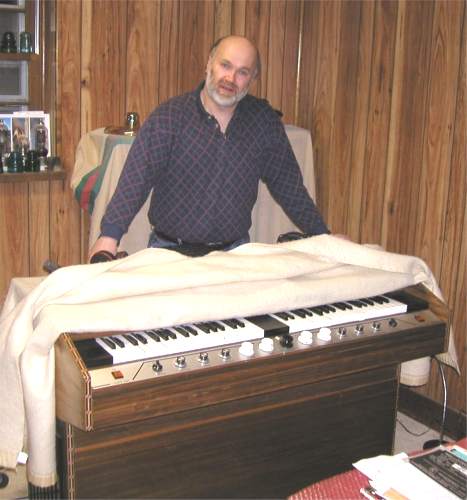 Jerry and the JK-MK6
Fine craftsmanship abounds in Jerry's domain, and it's always a pleasure to visit him and the original MKI---Mali Korb, Jerry's missus.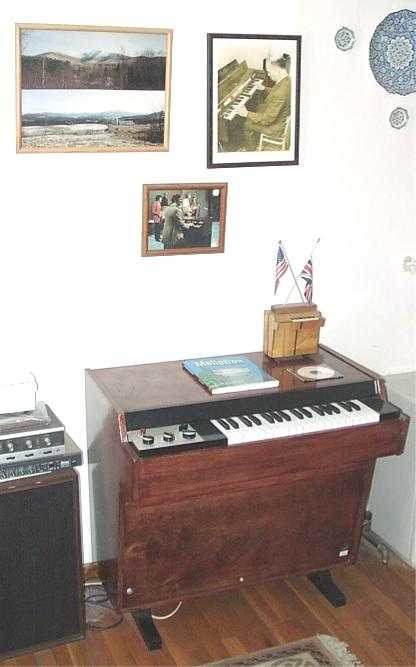 How quaint! Jerry's M400 lives in the dining room. This machine used to be white, but after stripping the paint, Jerry found nice wood, so stain was in order. Note the area around the control panel, painted black. Remind anyone of a Chamberlin? Also in the photo: wooden 4-Track model (1979); picture of Leslie Bradley playing the very first Mark I in 1963; 1968 photo of the Moody Blues with Mike Pinder performing on his Mark II.
MONEYPIT 2003
Unlike the Mellotron Symposia, our get together was pleasantly subdued. Jerry gave us a mini tour of Smuggler's Notch, a ski resort area in Vermont. We got to sample a fine Sunday brunch at the New England Culinary Institute's restaurant at The Inn at Essex in Essex, VT. And we were formally introduced to Julia, the Mellotron Mark I restored by Jerry Korb to as close to original as you're going to get. After owning and playing a Mark II for a while, Ken Merbler was looking forward to seeing how the restored Mark I compared to Ken's own Mark II.
Click on the links to the left for more about MONEYPIT 2003!

Calling all Mellotron Owners in New England!
Check out and sign up for
the e-mail group at YahooGroups!

Web site by Ken Leonard, editorial by Ken Merbler and Jerry Korb
Photos & audio by Ken Leonard and Ken Merbler
Movies by Ken Merbler
Mellotron name owned by David Kean
This site is not intended to be a fix-it or refurb guide for your Mellotron---it's your machine, you need to figure out how to fix it or get help. In fact, you should really get help if you own a Mellotron in the first place. Why own these cranky artifacts when computer chips do it all and tons more for far less money and a lot less aggravation? I mean...GET REAL! What, you don't have anything better to do with your time and money than futz with one of these things? Wakeman roasted one of his for a reason. Learn from that, OK? Look, if you're thinking of buying one of these things to work on, play on, or just leave in your living room as a plant stand, just send me the money instead...so I can buy one...:-)