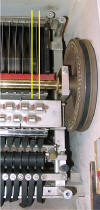 If you've seen Norm Leete's EMI M400 story, then you know what running into an EMI M400 is like. He nails it right on the head:

Some of the problems included old motor control board, sub-standard power supply and the mechanics out of square. I had never really considered the latter but it really is very important that the internal frame is square. Mine wasn't so the keyboard was hard work to remove when changing tape frames plus as the tapes were not perpendicular to the heads the treble response of the machine was poor. The mis-alignment also meant that the tapes dragged on the guides so the pinch wheels had been adjusted to increase the pressure on the capstan (they were at the bottom of their adjustment) and still some tapes would drag. In some cases this was so bad they would squeak while playing.

Jamie and I arrived to check out the EMI unit, and owner Paul got caught up on a number of other things (his schedule is usually packed, so having a Saturday free was quite unusual) while there was the usual Mellotron adjustment cacaphony going on, but he spent time with us to go over the machine as well.

It's hard to believe the number of items that Norm nailed on his web page as applying to E4/103S as well---unfortunately.
| | |
| --- | --- |
| | The motor controller was previously replaced with an SMS-5, so that work was done. The power supply seemed to be a stock M400 supply, but I didn't do anything with it. |
| | The keyboard was hard to remove, as if held on by a magnet. That was bizarre. |
| | It appears that the take-up box is out of square with the tapes (see picture to left). |
| | The pinch rollers for the top notes were cranked down to the bottom of their adjustment and still didn't play right. The bottom notes were better. |
I would try my best, folks, but only could get the machine so far---better than before, but not where it should be and can be. It likely needs a Leeting.
Some other observations (most we knew about before from Andrew's EMI)...
| | |
| --- | --- |
| | It's painted white. The original finish can be seen under the old serial number plate, which probably fell off somewhere. Shame, as I like the original finish on those cabinets. Paul informed me, though, that many EMI units did leave the factory white, so this could be a factory paint job. |
| | It appears that they had to chisel out some room for the front of the keyboard (probably done at the factory to make room for the keyboard). |
| | Brass capstan. |
| | Short keyboard frame. |
| | Cheek blocks are metal, not thick wood blocks as in the M400. |
| | Unfortunately the front and top pieces of this unit's lid have separated. |
| | The tapes are from Mellotron Archives (cello, 3-violin, flute). |
| | Missing one of the keyboard thumbscrews. |
| | The tape frame has a tape fastening screw snapped off. |
| | Then there was the pitch control... |
Pitch control...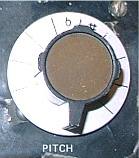 This one had me stumped. The pitch control is geared so that one turn of the knob is about 1/10 turn on the pitch control itself. I don't know if this is original or a replacement that someone made. Well, no real pitch dives on this box while playing, I guess!
So what we attempted to do in the span of a few hours was to oil up and adjust the machine to get it as good as it could be in the as-is state. I had a sinking feeling it wouldn't be enough, given Norm's experience, but I had to try.
The motor and capstan eagerly sucked up the oil I provided, and they ran more smoothly afterward.

Heads and capstan were cleaned.

The rollers were inspected. All turned OK, some chips here and there, but in fairly good condition.

Adjusted. Painfully. Several hours. Mellotronists' Hunchback. Thankful for Jamie's help near the end. Some rollers blurbled on some of the tapes, so I took the shine off them and cleaned them up, and they worked much better. One key in the middle (D) was stubborn and wouldn't really adjust all that well. It plays, but it's hard to press down, as the pinch roller obviously requires a lot of pressure to operate now.

While we went along, Jamie and I observed tapes there were worn rather strangely--along their length--under some keys. Three things cause that, but only two I could tweak:

| | |
| --- | --- |
| | Some pinch rollers weren't parallel to the tape path, thus pushing the tape sideways. I held my breath and gently twisted them back straight with some channel lock pliers. |
| | Some pinch roller holders weren't parallel to the key they were on. Fortunately the screws allow for a small amount of adjustment, and sometimes that millimeter or two really helps. |
| | Something's out of square. Not much I could do in an afternoon for that. |

We also got a lot of blurbling on some notes, and this seemed to be in concert with the motor vibration. The only way I could get rid of those was to crank down the pinch roller and pressure pad a bit more than they probably needed to be.

One of the pinch rollers seemed to be a Mellotron Archives replacement. It was not secured, just snapped into place, and one side of the axle was loose. I swapped it into key #35 and crimped it as best I could. I don't know the best way to get those to stay in other than that, but I'm sure there's a decent method available.

I adjusted the "glad to see ya!" keys (several key return spring nylocks were cranked too far), loosened up the holes at the front of the keys so the keys weren't hung up on the posts, and adjusted the key height to something Paul thought was OK (I didn't have a ruler there for the 3/4" throw). Jamie helped with a few, too.
So after all that...?
Let's say that the reviews are mixed. It certainly played and felt better by the end. When we left, the machine was able to hold pitch on most notes, but some were still tenuous. Chords were interesting at best, but Paul thought that he could at least use the machine after all that...
...well, 'til he tried it later on, and some of the dodgy notes were back. Paul will be able to take care of these somewhat, I'm sure, but I'm still haunted by "it's an EMI...square up the frame...disassemble it, square it up...".

O Mellotron Professor: I'm tired of running into bears, ya know? :-)
I let Paul know about the experience that Norm Leete had with his EMI M400 and various bits of contact information that should be helpful if he decides to have this machine squared up. I would like to see it right as rain, as it is pegged to be used on recordings coming up!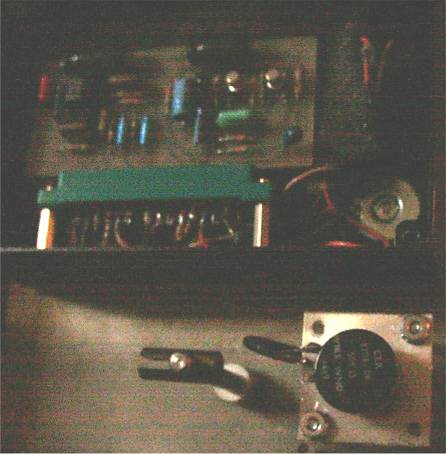 Single card preamp
EPILOGUE
Without a rebuild, the machine would only get as good as "just good enough but you kinda know something is wrong, and it's just enough to notice." Your Humble Scribe housed this machine for about a month over the winter '03-'04 and tried everything outside of dismantling it completely, including squaring up the frame a little. But there was still something wrong, especially on wide chords---just enough to be aggravating.
With the purchase of a nice little M400, the EMI's fate was sealed. Over Memorial Day Weekend 2004 the machine was made "good enough" after having parts scavenged earlier---it was once again running and making sound. But on June 1, 2004 the EMI was put into the back of the car and brought to a local music shop as a trade in.
One thing will always haunt me about that machine, though. I was advised against adjusting the SMS-5 motor controller in the EMI, and eventually it proved to be out of whack when installed into the M400 over Memorial Day Weekend---my ears caught it ("Jeez, this is just like the EMI!"), and thankfully Jerry Korb had the adjustment procedure for the SMS-4, and we improvised and made the SMS-5 much better. I don't think that adjusting the SMS-5 would have been the complete answer for this EMI (ask Norm Leete!), but it may have been one good step in the right direction, and maybe it would have been "good enough" after all? Sigh...