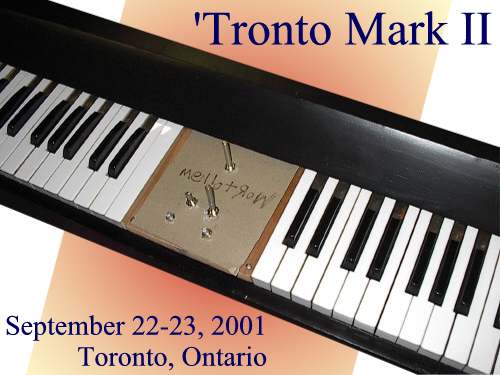 Mellotron Symposium: Toronto, Ontario, Canada
'Tronto Mark II
September 22-23, 2001
Even with the backdrop of the tragedy in New York City and Washington on September 11, attendees flew in from the UK, from California, from Texas, and from Virginia. More drove across the Canadian border from New Jersey, New York, Vermont, and Massachusetts. Still others just drove across town. It was a close call with the horrific goings on fresh in our minds, but the decision was unanimous. Anyone who can sit through hours of 'tron keyboard adjusting could not be deterred. And so 'Tronto Mark II went on, albeit with slightly heavy hearts.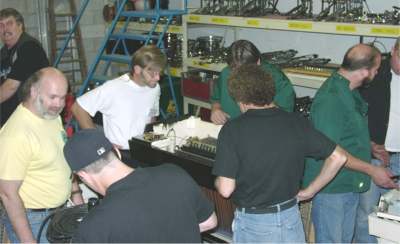 From all over: Charles, Jerry, Fritz, Dan, Terry, Martin, JB
In a word...
Is it possible to sum up all this Mellotron craziness in a single word? Ian McDonald could.
"SURREAL!"
Most apt, I'd say, especially when Clay's Mark VI started playing "Sweet Gingerbread Man"---the whole thing, broken up over several tapes. No, really.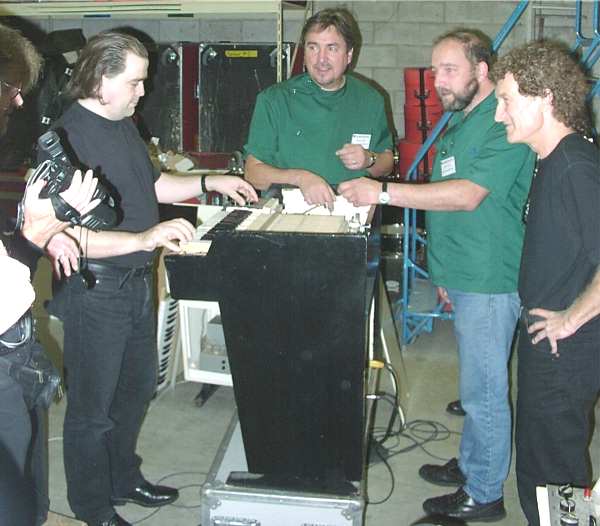 Dan Miso, Mike Dickson, Martin Smith, John Bradley, Terry Conheady
Highlights from 'Tronto Mark II include...
| | |
| --- | --- |
| | Fixin' them 'trons |
| | Mike Dickson's chemistry experiments |
| | Informative sessions about getting the most from a 'tron |
| | The Bow and Arrow Pub |
| | Checking out a Mark VI |
| | The fabulous SFX Console |
| | The Wakeman Double-Tron |
| | Special guest: PUFF DODDY of PUFF DODDY AND THE TAPE REPLAYERS |
| | Additional guest: Ian McDonald of King Crimson and Foreigner |
Soooooooo...Pick a spot and start in on the trip report. May I suggest Arrival.
And on one of the pages there's some stuff for you to view, use, and enjoy.

THANK YOU TO COLL AUDIO
A big thanks to Coll Audio of Toronto (Markham) who again gave us a place to work on and learn about our machines.

Need some music equipment---from a single instrument to an entire stage setup, from vintage to new? Give these guys a call!

| | |
| --- | --- |
| | Largest backline specialist in Canada |
| | Rentals are available from Coll all over North America |

Phone:
(905) 470-6330
Fax:
(905) 470-6870
Mail:
P.O. Box 540
Markham, Ont.
L3P 3R1
E-Mail: Inquiries can go to "mail" over at collaudio.com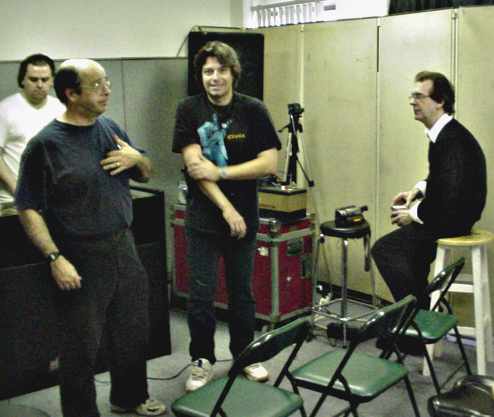 Craig Collett (Coll Audio, center) got the meeting room set up so we could hear the Brendatron.
Mike Dickson, Rick Blechta, and Ian McDonald round out the cast.

CREDITS AND DISCLAIMERS
Text and photos by Ken Leonard, unless otherwise noted.
Additional photography: Clay Eccles, Craig Collett of Coll Audio, Frank Samagaio.
Webmaster embarrassment prevention (i.e. web site review with corrections): Rick Blechta, Ken Merbler. Also part of the review team were Jimmy Moore and Mike Rivers.
Mellotron work done by the Streetly Lads Martin and John.
The Mellotron name is owned by Dave Kean of Mellotron Archives.
Thanks to Rick Blechta and Fritz Doddy for their contributions.
These pages aren't to be used as a fix-it guide for your Mellotron, although you may get some hints. You'd be better off getting expert help at the next Mellotron Symposium.
The beaver is the largest rodent in North America. The capybara is the largest rodent in the world.
Always wear safety goggles when performing Mellotron maintenance work, and be sure to read, understand, and follow the manufacturer's safety guidelines. Ear muffs recommended for keyboard adjustment.