Arrival
Your Humble Scribe drove up from Boston, a mere 600 miles door to door. Yowch! But it was only an extra couple of miles to the Bow and Arrow Pub, the Mellotronists' watering hole in Toronto, where everyone had gathered on Friday evening.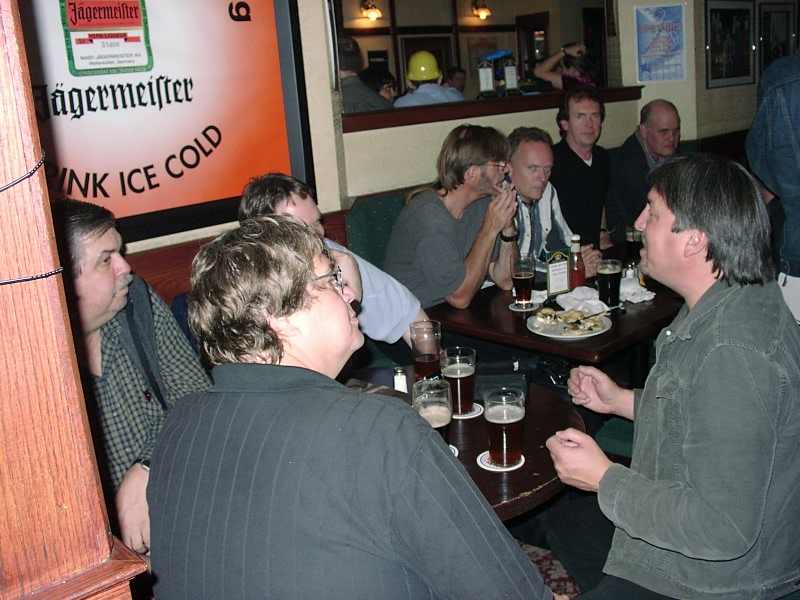 Stout and stories...Martin is talking about something to Jimmy Moore (Streetly's US Distributor, contact via Mellotronists YahooGroup), Ken Merbler's friend Charles, and Ken M. In the back are Dan Miso, Clay Eccles, and Ian McDonald.
Last year we cleaned the Bow and Arrow out of a particularly good local brew. I don't know if we did that this year, but I'm sure we put a dent in their draught.


Your Scribe attempted a photo after over 12 hours in a car.
I think all I got was Mike The Bodger's hat.


Bow and Arrow Photo Scrap Book
There wasn't too much Mellotron talk at the pub. Or maybe I was just out of it. I seem to remember some Hammond talk. After a few stouts it didn't much matter anyway! :-) I did get to bend Fritz's ear about what he's been up to, how he does his thing, and how he motivates the musicians (aside from mooning them). And Ray Jung's ear, too. Ray is one of the few full-time musician's I've ever met, and he's a very talented one at that. Ray, a long time friend of Martin, is behind the new fretless bass tapes in Streetly's growing tape collection.
It'll tell you it's always nice seeing the ol' team again---Martin, JB, Frank, Bodger, Rick and Vicki, Jimmy, Craig and Jim, Mr. Merbler, Fritz, Jerry---and now there are new folks on the ol' team, too, which is great!

SOME SNAPS OF THE TEAM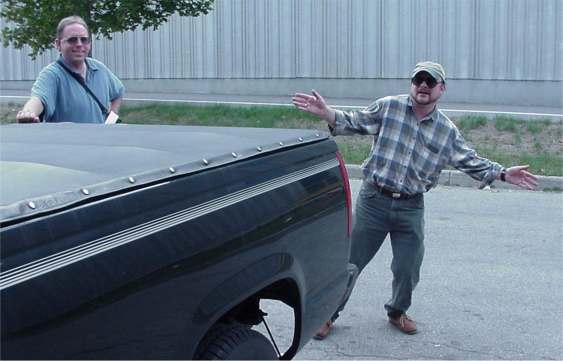 Your Humble Scribe and Mike "The Bodger" Rivers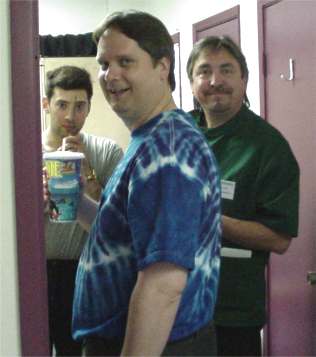 Chris Dale, Ken Merbler, Martin Smith.
(Please note the stolen food in Mr. Merbler's hand...Next time, order your own damn lunch! :-) )
| | | |
| --- | --- | --- |
| Fritz Doddy | From Florida: Charles Bennett, a long time friend of Ken Merbler | Mike "Dickstrings" Dickson |