JK-MK6/001: ONE-OF-A-KIND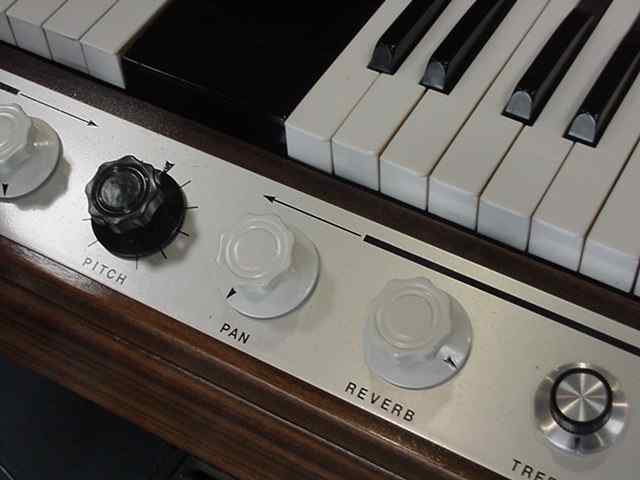 Mellotron Professor Jerry Korb of Vermont has been working for three years (and then some!) completing the JK-MK6, Serial Number 001.

Jerry took the workings of two Mellotron M400s (ex-ELO and ex-Mountain) and turned them into a gorgeous Mark V-type dual-manual Mellotron.

| | |
| --- | --- |
| | New SMS-2 motor controller, autographed by John S. Bradley |
| | Joined capstan with single pitch control |
| | Mark V style controls on the front, beneath the keyboards, with Mark II style and OEM M300 knobs |
| | Lettering hand-done, including an "M"-like logo hidden across the controls (Jerry was not able to use the Mellotron logo, as it is a registered trademark) |
| | Hand-built case with expert details, a fine finish, and distinct edging |
| | Exotic Australian/African veneers and edge inlays from cabinetry suppliers in three states. Finish is special non-toxic water-based, same as used on children's furniture. |
| | Amplifiers are hand-built, 40 watts apiece into 8 ohms |
| | Power supply is hand-built |
| | Accutronics Type 9 reverb units (same as in the M300) |
| | Active bass and treble controls (instead of one passive tone control) |
| | Panning for each keyboard |
| | Audio amp may be turned off to plug the JK-MK6 directly into a mixer |
| | Self-contained unit with amps, reverb, and speakers allow the JK-MK6 to be run without any external amplification, PA system, or additional external effects (and it's plenty loud and full!) |
| | Two original M400 swell pedals, modified for JK-MK6 circuitry |
The JK-MK6 is unveiled again, but this time for a delighted Fritz.

Yeah, we "unveiled" Jerry's machine several dozen times on Saturday and Sunday. But that's OK---we're not much on proper decorum at these Mellotron Symposia anyway.
Jerry Korb's three-year labor of love: The JK-MK6, Serial No. 001.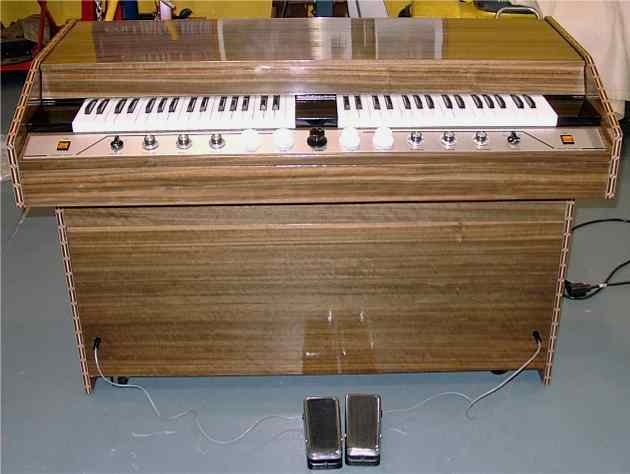 A look inside...

If you think Jerry's attention to detail stops at the outside, think again!


(Click for larger image)

The reverb tanks are made by Accutronics, Inc. of suburban Chicago. This is the same firm which has been making reverbs for decades, including those for Hammond and the original M300. They're six-spring long-tank models (Type 9) with extra-long delays---ideal for that "gothic" mix when needed.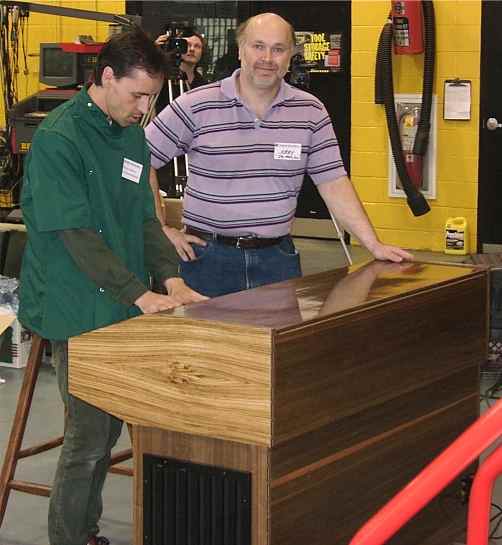 Mellotron Demonstrator Pierre having a go at the JK-MK6. I'd say that dual manual really makes a difference, as Pierre loaded up two of his own Mark V tape sets with a wild variety of sounds for the demonstration he did on Sunday afternoon.
On playing the JK-MK6, Pierre quipped:
"I can feel the bass notes travel through my arms!"

Is Jerry taking orders for more of these? Let's just say he's had a few, but at this time he doesn't intend to make any more of them. This was a special labor of love for Jerry, and it took over three years to complete. Well, as you can see, the three years were certainly worth it! But---for now anyway---the JK-MK6 will remain one-of-a-kind.
--- Thank you Professor Korb for the additional information and corrections to this page!!