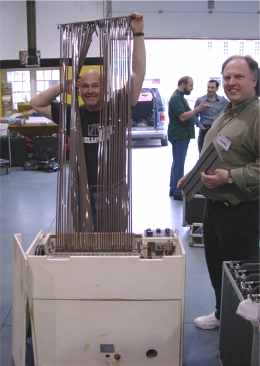 Peek-a-boo!
LACING NEW TAPES
Mellotronist's Hunchback, anyone? The main purpose of our visit to Philly was, of course, the Guinness, but Mellotron owners also got some time to adjust keyboards and lace tapes. Martin gave lots of lessons on doing just that on the new tapes and frames he brought over from the UK.

Aligning a new frame means making sure the pins on the frame allow the tape to flow directly through the center of each column.

Lacing Tapes:
The Basics...
(click to enlarge the photos)

Remove the "end" tape retention bar and fasten it to the keyboard stands at the front of the machine. It makes things much easier!

Some instructions.

Unwind a large hunk of tape...

...and take the extra tape and putting it into the tape box...

...after which you'll put the tape through the retention bar on the front of the machine.

And when you're done with the instructions above, use the "XXXXXXX" tool to put loops down each column (making the tapes look like a "W"), and snap the bottom loops into the frame's turnbuckles.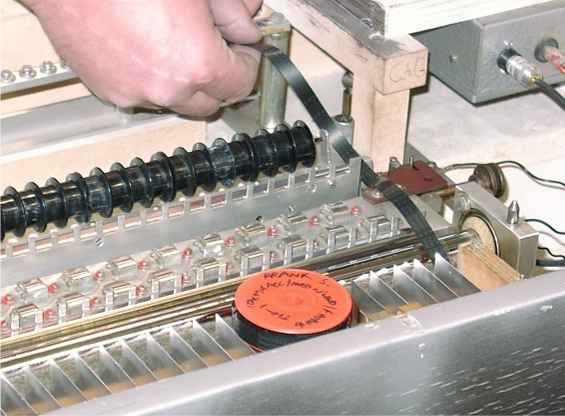 The new frames are very sturdy and built like bricks. Serious stuff!
The new tapes are on a stock which has some gripping problem, but they will play fine in most machines. It seems that there are fewer and fewer tape manufacturers around anymore from which to get good tape stock...Sigh...
Learn more about the Streetly Tape Library
We got to hear the Ian McDonald flute and the French horn (provided by Rick Blechta from Toronto). Maaahhhhh-velous sounds! The flute is reminiscent of the original flute sound, except it has a richness and clarity which weren't there originally. The French horn is bold and distinct; it's not likely to get lost in your mix! Both are still distinctly Mellotronic, as our lovely little mechanical friends have a peculiar way of taking the very best recordings and making them, well, quite 'tron-like.
Plus Shane had the Black Sabbath sound effects. We had some fun with those, and the folks at Shane's gig Saturday evening liked them, too!