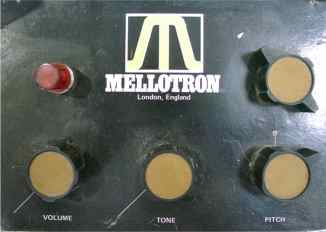 WELCOME TO THE MACHINES
In addition to our special guests the JK-MK6 and Jimmy and Joe's Formicatron, we had visits from the machines of Jimmy Pishock, Gino, Andrew, Shane, and Mike "The Bodger" Rivers.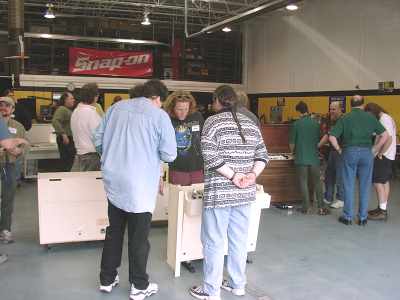 Jeff's machine came in needing the usual adjustments.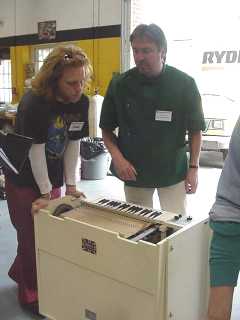 the highlight for me, was witnessing pierre performing on the dual keyboard (and beautifully restored) mellotron. he has a very unique feel for this intrument, one that i have never before witnessed, and it was indeed a touching experience that will never be surpassed.

the other highlight for me was realizing that i have a very good unit, as confirmed by martin, john, and pierre. this is especially gratifying, as i believe that mine was the oldest one in attendance (#364 carbon-dated by john, martin and pierre at approx 1972). it was purchased from the original owner, and he only lives about 30 miles away from my home. i hate to exhibit pride to such a revolting degree, but i do feel rather fortunate to have such a clean unit that has been cared for so well for so long. (forgive me please!)

- Jeff Coulter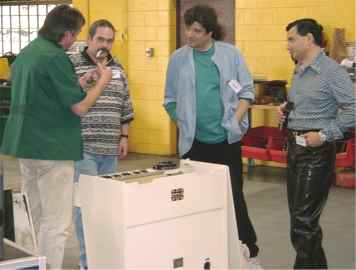 Jimmy Pishock's machine came in with a bad case of the wobblies and all that, plus the keyboard was horribly adjusted. The motor was hanging by a thread. And there was a mysterious AC hum...iiieeeccchhhh!!!

Professor Korb had a go at the machine, and the bad hum was tracked down to a shorted transistor on the power supply. Problem solved.

We constantly hear the plea that 'my 'Tron is working well and needs little doing to it'. How wrong this statement is on nearly every occasion. We suspect that a huge percentage of all existing machines are so far out of adjustment that expectations are therefore low of what a 'Tron should play and feel like. Sad but true.

- Martin Smith

I can certainly testify to this. Before I went to the Philly tron convention, I thought all I needed was a hum nullified. Boy was I wrong-- the keyboard action was stiff as steel, the the engine was hanging off from a thread, and the power supply was ready to burst into flames. Now it has the action of a Hammond, is as quiet as a kitten, sturdy as a sherman tank, and does not threaten to pull a flaming Rick Wakeman. I feel I should mention that I thought all these problems were things you just had to "deal with" when you owned a 'Tron. However, in the more than capabale hands of Martin and John, these rumors were actively dispelled, leaving all the slander the Mellotron has been victim of for the past half a century in the dust. Thanks once again, Gents, for all your help.

- Jimmy Pishock


Jimmy's King CrimsonT-Shirt wardrobe can be ordered from DGM.
Click to see a larger image of the EMI M400 which belongs to Andrew.

Note how its front profile differs from that of the standard M400. It's a rather pleasing design, is it not? The cheek blocks are aluminum, by the way. Bizarre.

This machine was completely refurbished (and straightened out, as none of the EMIs were built properly) in the UK by Streetly, but when it arrived in Atlanta, it was stone cold dead. So Andrew brought it along hoping John could get it going. With a few part swaps from Mike Rivers' machine, this one was running quite nicely, thank you.

Oh - Mike's machine got going as well!
Shane's M400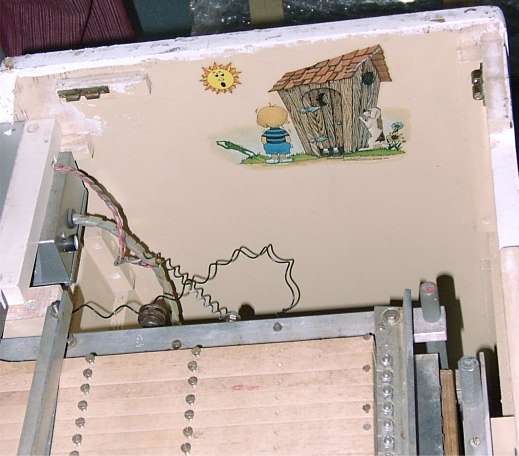 This is an interesting M400. The person from whom Shane bought it said it was the best sounding one he'd ever sold, but it was pretty beat up. There are drawer knobs on the back panel. There are handles popped into the sides (a good thing, though, for this touring 'tron). And no feetsies!

Shane's machine came in wobbling and hard to play, but before long it had come along nicely. Shane took it gigging on Saturday night, where it played OK, but not great. So it was back again for a bit more in the way of keyboard adjustment on Sunday, and it was right as rain!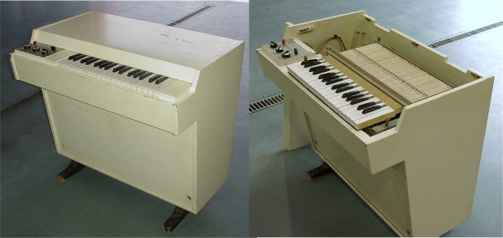 Here's the Mike Rivers machine...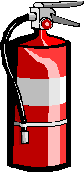 ...and the Mike Rivers Mellotron Accessory
Mike purchased an SMS-4 motor controller and wired up the power supply per the instructions. Unfortunately Mike's machine has one of those power supplies (ya know, one of the 20% that isn't like the other 80%), so the modifications required for the SMS-4 did a wee bit more harm than good. The motor turned very slowly, and before too long the power supply had just about had all it was going to take, and some of the magic smoke started coming out. Fortunately Your Humble Scribe was in the area and was able to kill the power to the machine before any harm was done. Whew!!!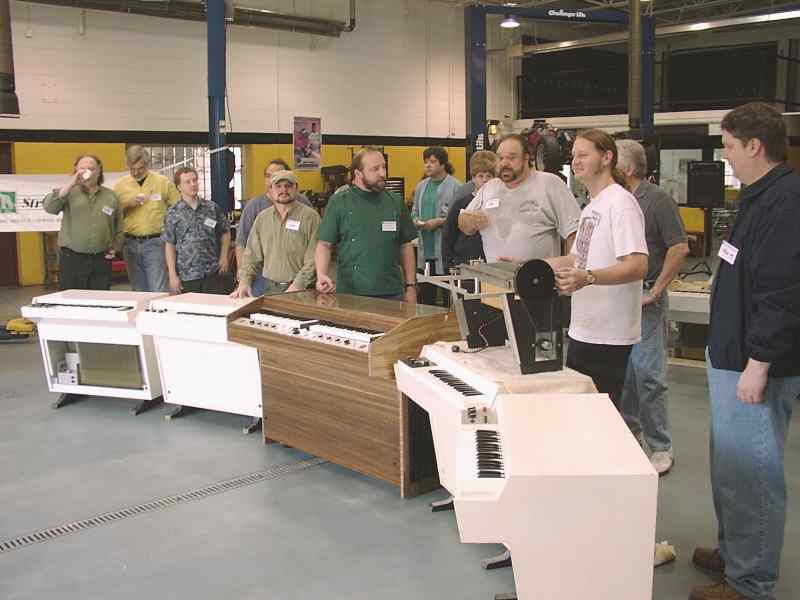 We were setting up for a photo along with the machines. An article with photographs will be submitted to Keyboard Magazine for possible publication. Jimmy, Joe, and Mike will be putting together the article.