Odds & Ends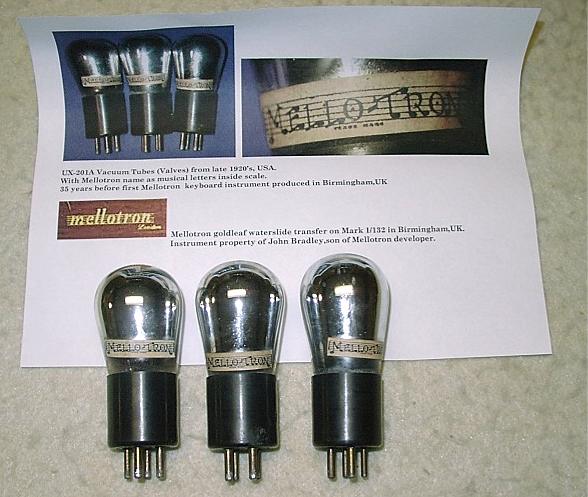 You were wondering who bought these puppies on EBay! Right, Jerry Korb! These are US-made "Mello-tron" tubes from the 1920s. Note the amazing similarity between the tube logo and that which would appear in the UK 35 years later.

JK-MK6

The design work put into the JK-MK6 is outstanding, let alone the construction. It has the speaker grilles of the Mark I/II, the profile of the M300, the innards of 2 M400s, a control panel modeled on the Mark V, and pinstriping on the control panel evoking the letter "M". It has internal amplification, reverb, and speakers.

Although the machine looks topheavy, it's not. And, yes, there are wheels under there--well hidden, but fully functional.

Neither Ken Merbler nor I can do justice to this machine or Julia with our playing, but we just can't help it...
MELLOTRON 4-TRACK PARTS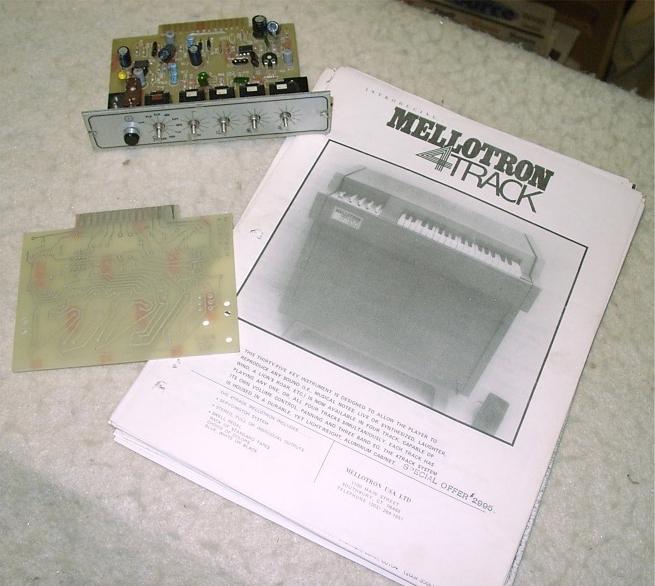 Only a few 4-Tracks were produced, and they were aluminum nightmares. The idea? Mellotron M400s have a single head per tape and three tracks. You can kinda mix tracks A-B and B-C, and it's done mechanically. The 4-Track was to replace the M400 head block with a set of 4-track heads and use a mixer instead of a mechanical track selection mechanism to mix the tracks on what would be 4-track tapes. Great idea, but by then the company was overtaken by the first 8-bit samplers, and the rest is history.
Jerry came across some 4-Track parts and brochures while in New Jersey.


4-Track circuit boards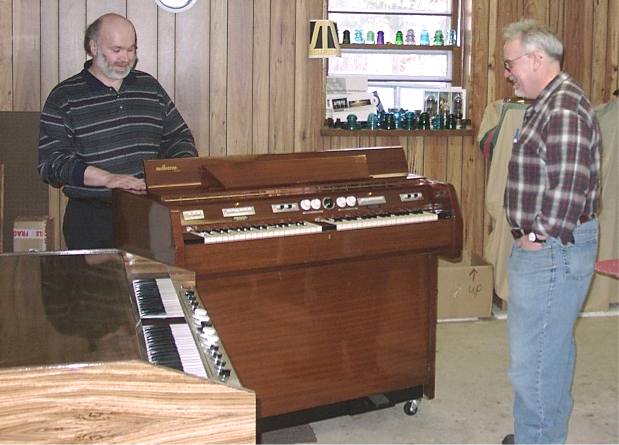 Jerry's buddy George comes by for a chat
WE HATES WOBBLIES!!!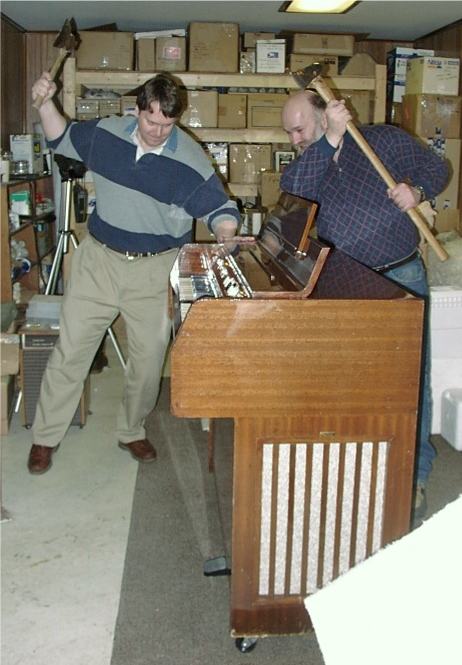 Ken and Jerry make delicate adjustments.
In the end, it was just too much for Ken to take. You see, up until now, he had the finest MKII in all New England, with #247. This photo was taken right after Ken "snapped". Amazingly, he somehow convinced Jerry to join in! - Ken Merbler
{Contribute your quote, too! Drop a note to Ken Leonard.}