CHOW DOWN!
After checking out the restored machines and seeing a bit of Vermont, MONEYPIT 2007 attendees settled in for the evening and grabbed a little dinner.
Fire up the barbie!

Charlie rivals Jerry as the Master of the BBQ! Charlie's specialty? RIBS!
The Korbs are great hosts. You have to try Mali's macaroni salad! And Mali has introduced Charlie and me to kohlrabi, which is a vegetable that's like a turnip only it grows above ground. You can use it like a potato. The kohlrabi is a staple at the Mellotron Ranch. Charlie now grows kohlrabi in his garden at home in Michigan, and he has been trying out some of Mali's recipes.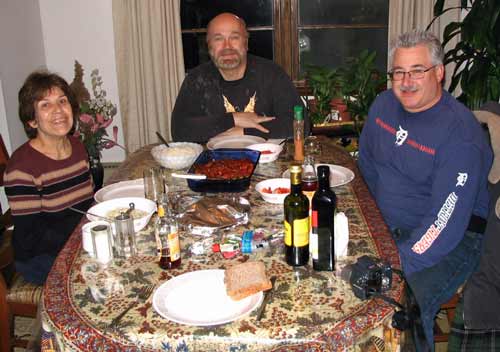 Charlie "fuels up" for the long drive in the morning
Thanks for a great meal! :-)

DRAWING TO A CLOSE...
In the morning it was time to bid farewell to Charlie and his two restored machines.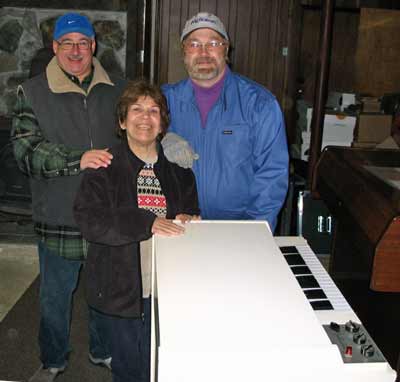 Charlie, Mali, Jerry, and M400 #203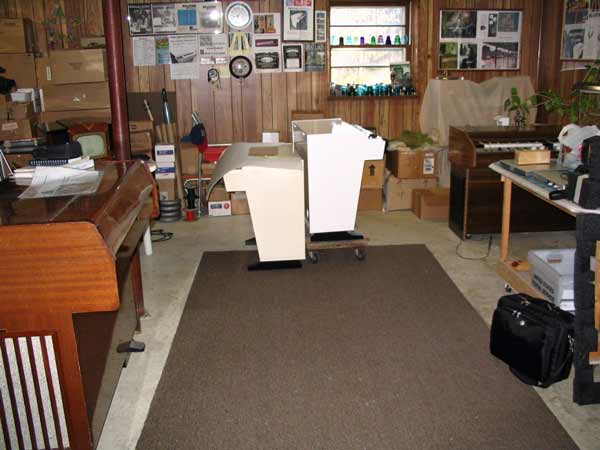 Getting ready to be wheeled out to the van
Hey! What's the hold up, Jerry???
A SNAG!!!

Errr...yeah, these "easy, fold away" seats in Charlie's van didn't live up to their name. We actually got out the manual (what? engineers reading the manual!!?!?!?!)...and we still couldn't get those seats to disappear into the floor!

Fortunately Jerry's new van is similar, and we got the seats to flip down and fold into the floor there.

Eventually we were able to work it out and create a bunch of room for Charlie's two machines.

No, stuff like these weird seats doesn't keep us down for long!
All packed up and ready to go, Charlie began his drive back to Michigan.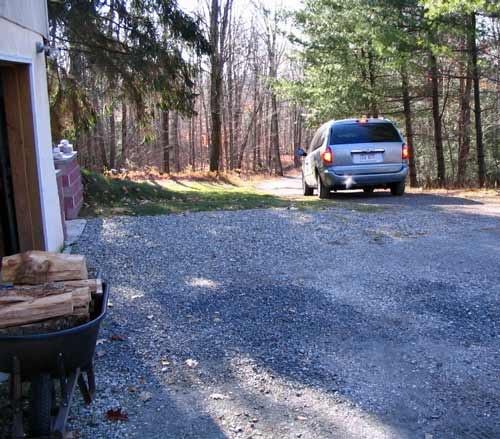 This meant, of course, Your Webmaster's stay in the North Country was also at an end, and it was time to head back to Boston.
Another fine MONEYPIT, and many thanks to Charlie and our excellent hosts the Korbs for an enjoyable stay!

EPILOG
Charlie sent along a snap of his Mellotrons relaxing at home along with some thoughts:

<-- Click here to see M400 #203 and M400 #1414 at home in Michigan
"Ole #203 & 1414 are sounding just as sweet as the day I left the Ranch. I play them at least a couple of times a week. No flutter or wobbly sounds yet. I was hoping to get some practice tuning them up, but havenít had to it yet. I am still in awe at the feather lite touch of #203. It plays so easy. I like to play #1414 for awhile first, then I go to #203 and really feel the difference. What a great job you did on both of the machines. I truly enjoy my investment." -- Charlie Hemlock, 15-April-2008

Click here to return to the start of this MONEYPIT report...