Rick Blechta's SFX Console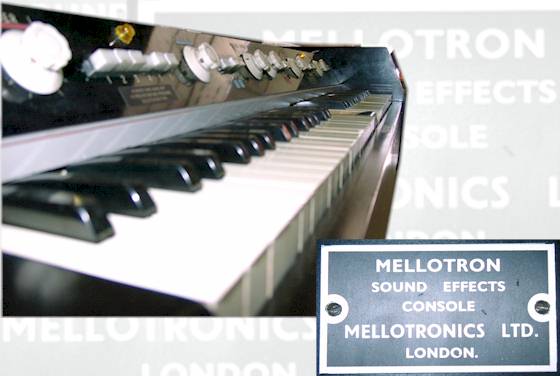 A comparatively rare beast, the Mellotron Sound Effects Console was a slightly modified Mark II that could be fitted with over 1200 sound effects. If you've ever seen "Dr. Who" or other shows from the BBC, you've heard this type of machine.
In addition to correcting many problems with John McIntyre's M400, the weekend was spent bringing Rick Blechta's SFX Console back to operating condition. John Bradley and Jerry Korb spent a great deal of time over the two working days replacing transistors and capacitors, tweaking this and tweaking that, and doing a lot of head scratching. Well, that's what it's like to fix up a Mark II.
| | |
| --- | --- |
| Jim Krueger of Broken String Music (and assistant to Craig Collett at Coll Audio) had already refinished the case to a beautiful black (the original BBC SFX Consoles were the official BBC colour (a.k.a. "battleship gray")), but the mechanicals in this unit were a different matter. | |
Parts is parts.

John and Jerry were often seen studying the schematics and picking up a soldering iron.

John McIntyre's M400 was converted into a table for this exercise.

John Bradley's home away from home: the insides of a Mark II.

Dots is dots.

Small white paper dots are stuck onto the keys under the key retention bar to make the keys even and to have them return without much of a thud.

Pierre and Frank are quite intent on their dotwork, eh?
By the time we left, I'm glad to report, the SFX Console was singing and its tapes were cycling on the right hand side. However it still needs some kinks worked out, and Rick will be shipping it to England for the final mechanical work.