Departure
Where did the time go? We spent two days doing things Mellotronic (and alcoholic), but it seemed to end almost as soon as it began. By Sunday afternoon it was time to pack up and head out, bringing to a close this Mellotron get-together.
John Bradley made a few last-minute adjustments to John McIntyre's keyboard...

...as #805 sat in its Protect-O-Muff waiting to be hoisted into the van.

With #1001 under wraps, Ken Merbler searched in vain for someone to help put the flight case's top on.

(Ken's flight case is ex-Pierre Veilleux (of The Musical Box, a Genesis cover band).)

Hint: The M400 flight case adds a few pounds (and some girth and height) to the already cumbersome M400. The Protect-O-Muff makes the M400 much easier to carry, especially negotiating stairs. When we got Ken's machine back to his place, 1001 was removed from the case and 805's Muff was slapped onto it so we could get it back up to his 2nd floor.
But before we took off, it was time for one last group photo...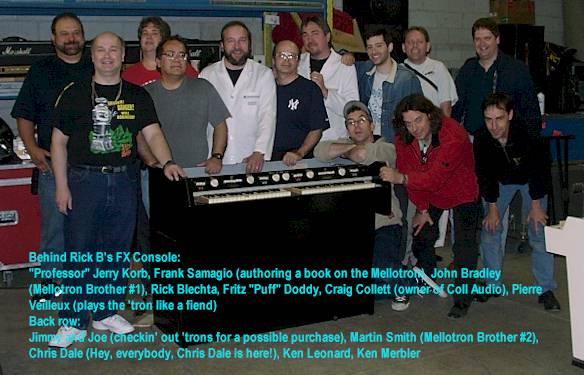 A major success...The SFX Console running, John McIntyre's M400 playing correctly, adjustments made to all machines...plus the trading of stories, jokes, barbs, off-color remarks, insults, hints, tips, and camaraderie made this just a wonderful time.
John Bradley and Martin Smith: The Men of the Moment
Rick Blechta and Chris Dale: The Organizers
my hat's off to yas!

THANK YOU
Craig Collett
...for the space, assistance, and patience while we were there.

Coll Audio
3400 Fourteenth Ave.
Suite 17
Markham, Ontario
L3R 0H7
Canada

Tel: (905) 470-6330
Fax: (905) 470-6870

Audio equipment and musical instrument rentals. Look for Coll Audio equipment in the "Blues Brothers 2000" movie! Providers of audio equipment for the Rolling Stones, Hanson, and more. All needs, large and small.