BEHIND THE TAPES:
mellotron symposium - toronto, canada - may 2000
This historic Mellotron event was 40 years in the making. It was the first time that a bunch of Mellotron machines and their owners were brought together for a weekend-long fix-it-up session. It went well beyond the Mellotron clinics run by the Dallas-Arbiter in the 70s, which were little more than traveling demonstration shows. No, our Mellotron Symposium was different. We entered a world of tape decay and of tach head dismemberment, where wobblies and gremlins thrived. There was much work to be done. There was blood, sweat, and beers. But with the guidance of Mellotron Brother #1 (and despite Mellotron Brother #2) we got through it all only to emerge more tuneful, brighter sounding, and less wobbly.
Tonight on BEHIND THE TAPES:
The Mellotron Symposium - Toronto, Canada - May 2000
Arrival
After 10 1/2 hours of driving from Boston on Friday, Ken Merbler (creator of the old TronSounds web site) and I finally arrived in Toronto. We unloaded our 'trons (my #805 and his #1001) at Coll Audio with the help of Craig Collett. At about that same John McIntyre came along with his M400, which was in dire need of some attention. I helped John get his M400 out of his truck. It was unpacked from its Protect-O-Muff and made ready for work to begin on Saturday.
But before any work could begin, we had to complete our first mission: hooking up with the gang at the Bow & Arrow Pub and drinking all the County Ale the pub had in stock.
Our first meeting of the Streetly Electronics lads Martin Smith and John Bradley was, appropriately, in the Bow & Arrow Pub on Yonge St.

The first thing you learn about Martin and John when you meet them: Mellotron repair is not the only thing they know how to do, as Martin demonstrates to the right.

Below we see Ken "Voted Most Likely to Be Careful" Merbler and Fritz "Puff" Doddy (winner of two Clio awards).


Another one of Martin's hidden talents: the old soft shoe.
Here Joe joins in.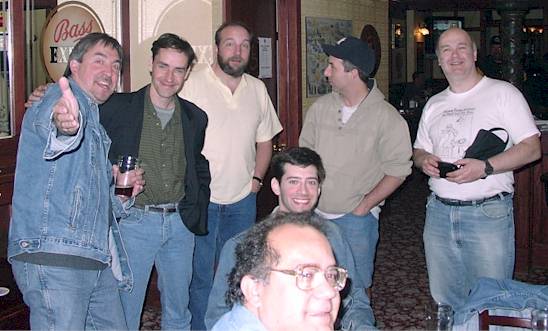 The Gang's Not All Here!
Front: Frank Samagaio
Middle: Hey, Chris Dale is here!!!
Back: Martin, 'tronist extraordinaire Pierre Veilleux, John, Fritz, and "Professor" Jerry Korb
And with our first trip to the pub over, it was time to head back to our quarters for some sleep before the long day of Mellotron work ahead...