MAY 2007 - THE STREETLY ELECTRONICS M4000 and M5000:
THE FIRST NEW CYCLING TAPE REPLAY INSTRUMENT
IN DECADES!
Available in single manual (M4000)
and dual-manual (M5000)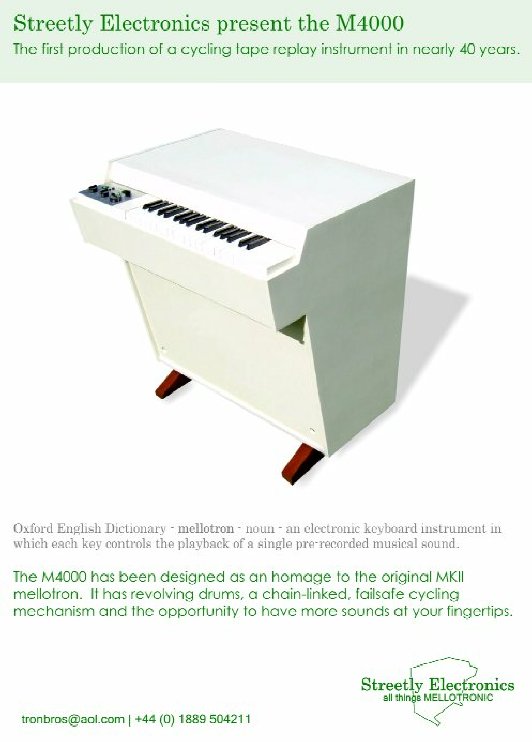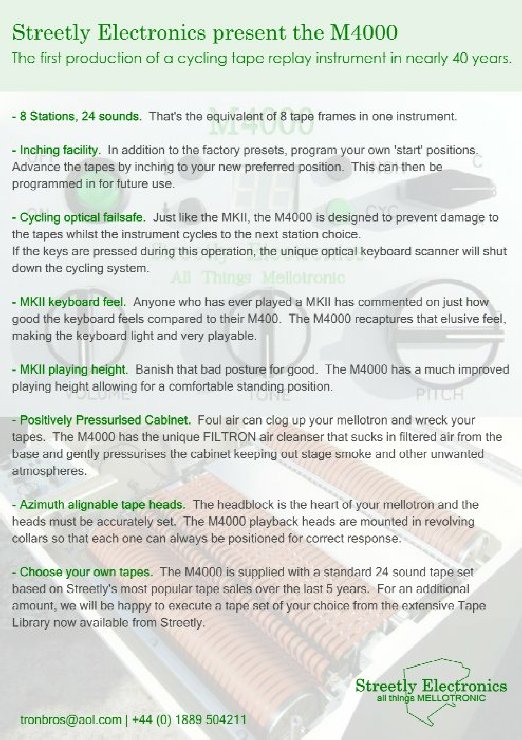 Additional information is available at the Streetly web site.
MOVIES
See the cycling of the M4000 in action on YouTube, couresy of Norm Leete, one of the people who helped develop the M4000. Click here to be brought to Norm's YouTube page for more videos!
TAPES
Here is the M4000's standard tape set.
M4000 Standard Tape Set
Station
Track A
Track B
Track C
1
MKII Flute
MKII Violins
Cello
2
String Section
Eight Voice Choir
St. John's Wood Church Organ
3
MKII Brass
MKII Tenor Sax
MKII Trombone
4
Male Choir
Female Choir
Boy's Choir
5
M300A Violins
Russian Choir
Sad Strings
6
MKII Church Organ
Ian McDonald Flute
MKI Clarinet
7
Vibes
Watcher Mix
Orchestra
8
Bass Clarinet
Cor Anglais/Oboe
Medieval Woodwind
PRICING
Visit the Streetly site to contact your local representative regarding availability and pricing.
Images and PDF used with kind permission of Martin Smith, Streetly Electronics.