The Chamberlin Music Master
Created by Harry Chamberlin in the late 40s, the Chamberlin series of musical instruments were hand-built, utilitarian units that served as the template for the Mellotron. There are many similarities between the Chamberlins below and the first Mellotron, but there were also many improvements made on the Mellotron. In general Harry's instruments sound great but had station cycling mechanisms that aren't as robust as the Mellotron's. Harry's machines are wired hot all the way around, so they are a shock hazard inside, unfortunately.
Many Chamberlin owners today love the sound of their machines but keep their hands away from the metal bits on the inside when the machine is on. They also cycle the machines by hand, as the series of electrical contacts and relays that control the cycling mechanism has never been reliable.
You will see the Chamberlin M1 around, though. It's the 8-track table top version of the Chamberlin. It is very compact, portable, and great sounding. It still gets a fair bit of use in recordings and videos.
Chamberlin Music Master 300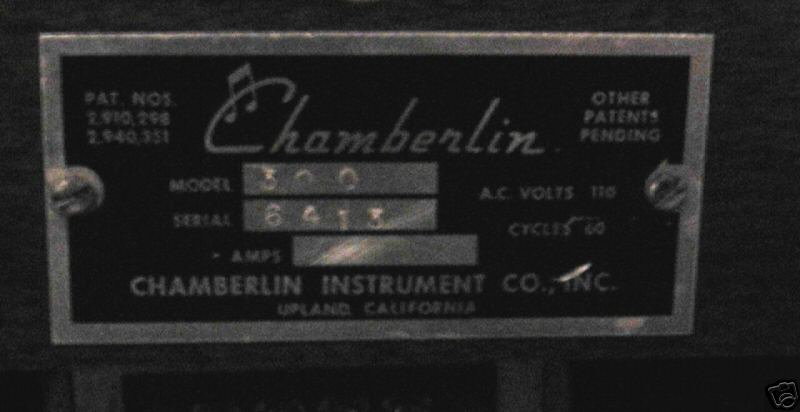 FOR AUCTION ON EBAY, MARCH 2006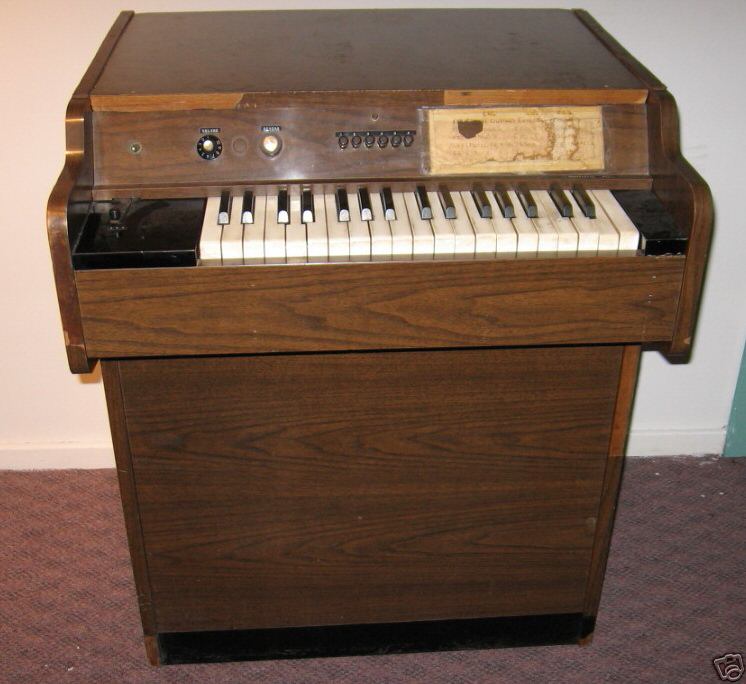 Zac Rae kindly donated the pictures from his EBay auction to this site (thank you!). This is a Chamberlin Music Master 300, which seems very much like 1/2 of the big guy below--yes, it has six stations and seems to have many of the delightful quirks we saw in the QDivision Music Master.
More photos of this amazing little machine:
Compare with the machine below and the Chamberlin from QDivision.
Chamberlin Music Master 600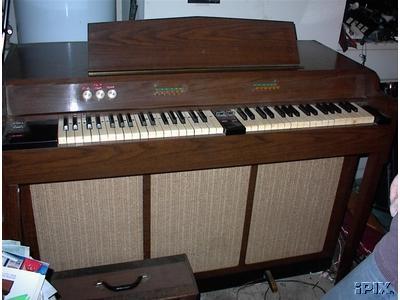 FOR AUCTION ON EBAY, JULY 2001:
1963 Chamberlain musicmaster unit--2 35 note keyboards 3 track--18 sounds or rhythm patterns or those great sound effects on each keyboard--36 sounds in all--unit works--all tapes play-has internal amp and reverb with sro 12's on each side--all stock as Mr. Chamberlain made it--This machine is very rare-as is any chamberlain-and what an rush it is to operate and here all those patterns and effects--Don't know when it was last serviced-I've had it for 6 years--but should have one even though it sounds great!--A rare piece of musical history!
This gorgeous Chamberlin Music Master went up for auction on EBay in July 2001. It's perhaps the best-preserved example around.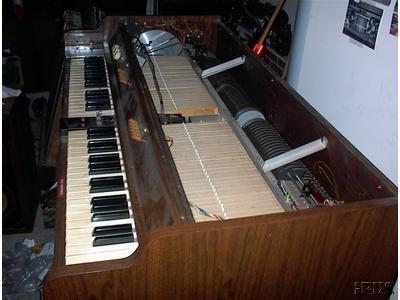 One of the long-standing Mellotron stories was about Bill Fransen bringing two Chamberlin Music Masters over to the UK to perhaps make a deal between Harry and Streetly Electronics. Harry never heard anything, but shortly thereafter Streetly introduced the Mellotron Mark II. Hmmmmm...It leaves you scratching your head, doesn't it?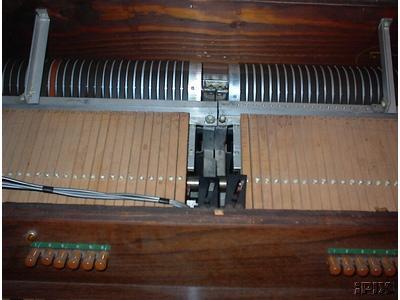 Let's see now...
| | |
| --- | --- |
| | Dual manual |
| | 35 notes per manual |
| | 3-track 3/8" tape as a sound source |
| | 6 stations of sounds |
| | 36 sounds in total, including "rhythm patterns" |
| | Internal amplification and reverberation |
Am I describing a Mark II...or the Chamberlin? YOU decide.
Ahh, but this is Mellotron folklore, isn't it? I hope that Frank Samagaio's book sorts this all out!
MONEYPIT TOURS Q DIVISION STUDIOS
January 7, 2006
Click here for the full report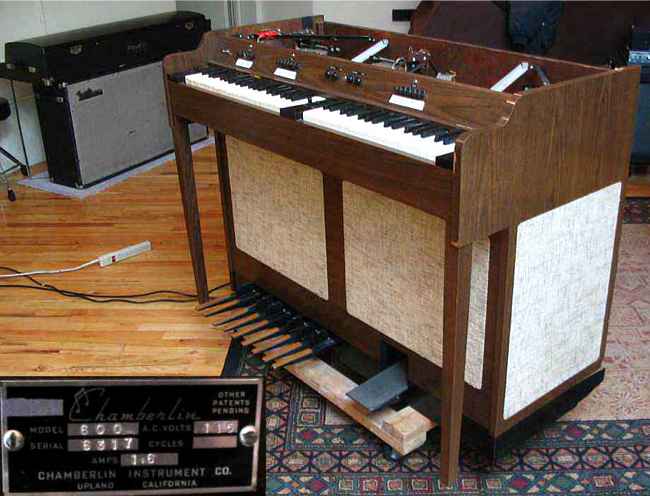 A note about a Chamberlin Music Master now owned by Tom Waits:
Ken, I was just checking out your excellent Mellotron-related website when I came across the page about the Chamberlin Music Master. What a cool instrument.
Tom Waits has a Music Master. Apparently he saw an ad in his local Recycler-type of paper and went to find out what this thing was. The previous owners were a couple of "surfer" types that would just turn the thing on a revel in the sound effects (there's a fireworks or FX tape on this one). Tom reportedly paid something like $400 for it.
Tom uses it quite a bit! Most recently he put down some tracks using the Music Master's "vibraphone" sound, and you will probably hear it on Tom's releases in the Spring of 2002.
Tom also has an M400 he likes very much, by the way.