THE MELLOTRON BOOK
Frank Samagaio's book about the Mellotron IS NOW AVAILABLE!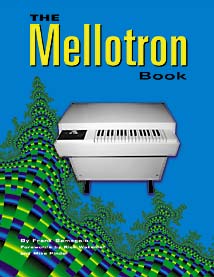 I just picked up mine (3/15/02) at a nearby Barnes and Noble. "The Mellotron Book" is also available from the following web sites:
ArtistPro - Amazon - Barnes and Noble
Included...
| | |
| --- | --- |
| | Pictures (many from this web site, plus some archival) |
| | Interviews with Mike Pinder, Rick Wakeman, Ian McDonald, Wooly Wolstenholme, Tony Visconti, David Kean, and others |
| | A history of the instrument and a list of the sounds |
| | A recording list |
| | Many pages by regular contributors to the Mellotronists e-mail list |
It's a short book and will be a quick read (somewhat along the lines of Vail's "Vintage Synthesizers" in layout/format), and it's great that Frank was able to capture the thoughts of some of those 'tron users who are familiar to many of us.
From: Frank Samagaio (he's MAinPsych over at AOL)
Date: Tue, 11 Sep 2001 10:15:56 EDT
Subject: The Mellotron Book

Hear Ye, Hear Ye, Hear Ye...
Although I consider myself a humble individual, I am extremely pleased and
proud to announce the arrival of the long-overdue Mellotron book,
coincidentally titled, "The Mellotron Book." "The Mellotron Book" is
scheduled for release by artistPRO (MixBooks)/Hal Leonard Publishing in
November 2001, in softcover, with a retail price of $24.95.

"The Mellotron Book" includes sections on the workings, history, models,
color photos, interviews (with the likes of Michael Pinder, Ian McDonald,
Rick Wakeman, John Wetton, John Hawken, Wooly Wolstenholme, Tony Visconti, to name but a few), and sounds.

"The Mellotron Book" is already listed on the Amazon and Barnes & Noble
websites, as well as on the artistPRO website and Yahoo!


Reserve your copies of "The Mellotron Book" today!


Frank Samagaio
Mellotron M400 #908