ARRIVAL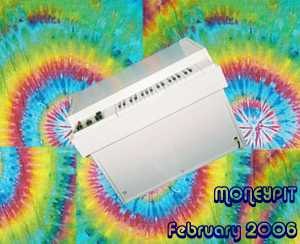 Lee had it easy. He flew into the airport in Burlington, Vermont, and Professor Korb collected him. "Easy" being the relative term, I'm sure Lee didn't enjoy getting knocked around in a plane by extremely high winds (60+ mph/100+ kph) and tumbling temperatures. Having lived much of his life in Hawaii but now in Alabama, Lee was in for a bit of temperature shock as a nasty cold snap settled into New England.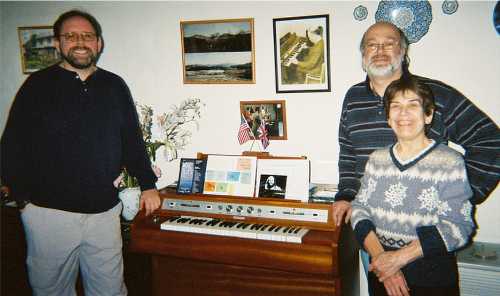 Your Webmaster, Jerry's M300, and Jerry and Mali Korb at the Mellotron Ranch
Your Webmaster had a rather large task to take care of that Friday morning before heading north. In MONEYPIT's last adventure, Jerry and I visited QDivision, a recording studio in Somerville, Massachusetts. There we were treated to a Mark II in reasonable cosmetic but questionable electronic/mechanical nick and a Chamberlin Music Master 600 (those are always in questionable nick). The owner of the Mark II decided to have Jerry restore the machine's internals, so he made arrangements for me to rent a van, drive it to Somerville, and then head north to Vermont, Mark II in tow.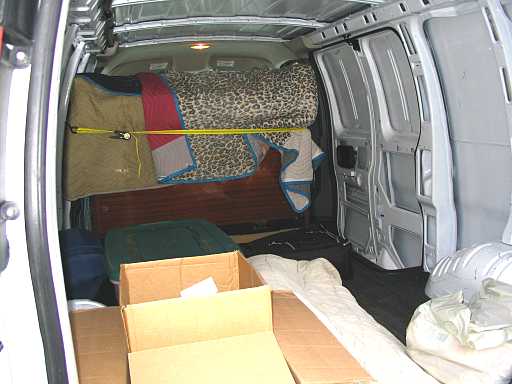 Simple enough, right? Well, all week long we'd been watching the weather forecast, which, for February, was unusual, giving us 50-degree (10C) or higher temperatures. It was great, as had been most of the winter with little snow and warm temperatures (for New England anyway). The outlook for Friday? Extreme winds, spotty rain, and dropping temperatures during the day.
Did I say extreme winds?
If you look up "big white van" in the dictionary, it says, "See 'sail'". Lovely.
I arrived at the rental counter to pick up the van and asked, "I'm taking the van to Vermont where my friend lives on a dirt road with a hill to get in and a hill to get out. With the possible snow/ice coming in on Friday, I have to ask: Does the van have snow tires?" Given the laugh, I knew what the answer was.

The van now mine, I packed my gear in, topped it off ($25 for about a quarter tank...oh boy, this was going to be pricey for petrol), and drove to Somerville to pick up the Mark II.

Now came the first challenge. You see, Boston's roads are designed by cows for cows. If you are driving a van, that's strike one. If you are driving a commercial van, that's strike two, because it doesn't have any windows. Even the windshield is an option (fortunately mine had one). Somehow I made it over to QDivision where Jon, Brendan, and I managed to get the Mark II into the van and secured.

Although it wasn't easy, I made it through the post rush hour Boston traffic and found my way heading north to the New Hampshire border.
The day started warm and breezy with a few clouds. A few miles out of Boston the wind began to pick up, the rain began, and the temperatures began to fall. Most of the trip would be like this, only the wind would get far worse.
In Concord, New Hampshire I stopped for some groceries for the weekend, and halfway through my cold cut order, the store lost power. Fortunately the power came back on, so the lady behind the counter could cut the cheese once more. That done, I loaded up the pile of deli goodies into my cart, and the power to the store failed again. I could see out the window that the wind was really kicking up, undoubtedly causing the power to go out. Assisted by the store's emergency lights and a small flashlight, I continued my shopping. Over the loudspeakers in the store someone assured us that although the power was down, the cash registers would continue to work (gee, now why didn't that surprise me?). Some bread, some beer, a few cookies, some more beer...done and out.
The van was a-rockin' in the hurricane winds outside, and I unloaded my bounty just in time for the shopping cart to be blown across the parking lot and into a ditch. I feared the same for the van, nonetheless I wanted to get back out on the road and on my way. All the intersections were blocked, as the traffic lights were not working, but I managed to get back on the main highway for Vermont. I had no idea how I'd get through the wind storm driving a huge relatively light white breadbox, and I kept a tight grip at "10 to 2" on the steering wheel. It was a good thing, too, as Vermont's Interstate 89 is notorious for wind tunnel effects, and the van would have been off the road several times had my hands not been clamped to the steering wheel. I stopped at a rest area and noticed how cold it had become, then I spotted what seemed to be snow clouds up ahead in the mountains. Oh, great.
As Smuggler's Notch is closed in wintertime, there are two ways to Jerry's place after you get through Vermont's capital Montpelier. You can take annoying, twisty roads through Tourist Hell to Jerry's, or you can opt for a way-out-of-the-way western route. I took the western route, which means heading over to Burlington/Essex and back eastward to Jerry's place.
It was along this route that the snow squalls started, and they managed to leave just enough powder on the roads to make things a little slick.
We'd gone from spring conditions the day before to a blustery series of snow squalls...and it was getting colder...and I had a hill to go on Jerry's dirt road, one that almost trapped me back in '04 (fortunately the hill didn't get me that time, but Jerry's driveway did). And I was driving a box without much grip on the road.
The van still getting thrown around in the wind with the added bonus of the squalls, I cautiously made it along the hilly paved road out of Jeffersonville to the road where Jerry's house is, the snow still coming down, the rutted dirt road blanketed by the white eagle of the north. With one last gust of wind knocking the van about, I drove down the hill near the swamp, turned slightly left, then up the opposite hill without a slip. Then it was into Jerry's driveway and on up.

I, for one, was glad the end of my journey did not turn exciting.

I shut off the engine, shrugged my shoulders, opened the door, and was hit with a blast of Vermont winter air that was full of the warning of the cold that was to come that weekend. And it certainly did.
Jerry and Lee came out to meet me and help unload the van. We had to get the Mark II out of there along with a bunch of gear I brought with me just in case we wanted to record something. I didn't want to leave everything out there in the cold, as it was supposed to be a bit too cold for the gear and it would mean retrieving it later, and I wasn't exactly looking forward to that. We got everything unpacked and started our weekend.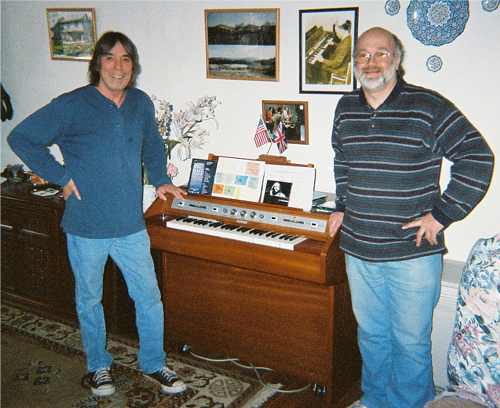 Lee Richards, Mellotron M300, Jerry Korb
There's nothing quite like a wood stove all fired up on a cold day. Jerry and Mali have two of them, and both were in use the whole weekend as the temperatures settled well below zero Fahrenheit, to which some nice wind chills were added.
Given the whipping wind and the chance of a tree snapping some power lines, we were wondering whether or not to let Lee see his beastie on Friday evening instead of waiting until "Jerry was ready" (usually after torturing the victim with anticipation for a few hours on Saturday). What good is a Mellotron unveiling if there's no power? Heh, no matter, they usually forget to turn the thing on to play and listen to it anyway. So we held off 'til the morning, grabbed some dins, and just settled in for the night.
Wood stoves, good food, good folks, and a couple of stouts. Nope, can't beat it!
And, of course, THIRTY FEET OF LINEAR 'TRON!!!!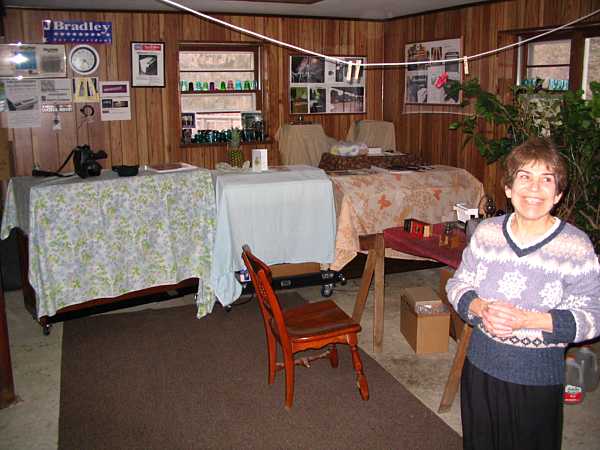 Mali Korb at the Mellotron Ranch with part of the "30 Feet of Linear Tron" in the background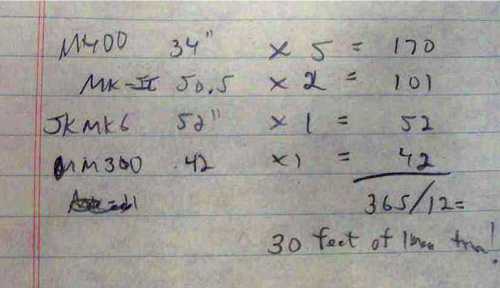 Yep, 30 feet
Before we get to the unveiling, let's check out some of the work that went into #541...-->