ARRIVAL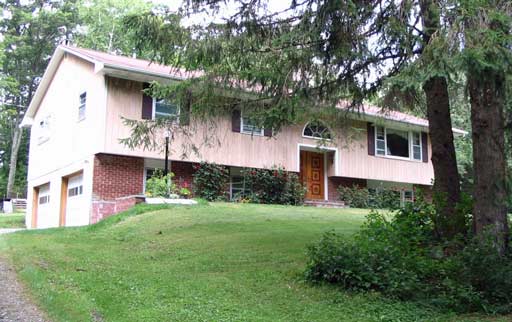 It's always a pleasant drive to the Mellotron Ranch. Well, unless you're in a snowstorm or are driving a van in a windstorm (or both). Fortunately this August day was perfect, making the 220 or so miles from the Boston, Massachusetts area not so bad.
The workshop at The Mellotron Ranch was ready with just a little rearranging needed.

The Mellotrons are trying not to be seen.
Meanwhile...Your Webmaster has observed that it's a very quaint life for Vermonters.
Jerry is very proud of his squash...


...and his meat.


Yep, one of the side bennies of the Korb hospitality? Good eats - steak tips and fresh stuff from the garden...


...the garden of Mali, a.k.a. Mrs. Korb, of course!

Mali and Jerry really go all out for us during the MONEYPITs, and it's always a wonderful time! It's great of them to open their house to us and treat us to some fine hospitality. Always appreciated, and I know I can't thank them enough for all the time I've been able to spend there, the help with my machines, and for the great friendships.

Tom Doncourt "on tour" in Vermont
As is the custom, Jerry is more than happy to bring folks around to see the local sights. A spot not far from the Ranch gives a nice photo opp of Mt. Mansfield, Vermont's highest point. No snow this time of year! Oh, yes, that is a dirt road. Although that's not Jerry's road in the picture, Jerry does live on a dirt road. Nobody believes me, but it's true. Really.
Before we got to the purpose of the visit, Tom took some time for an introduction to one of our other Mellotron friends at the Ranch.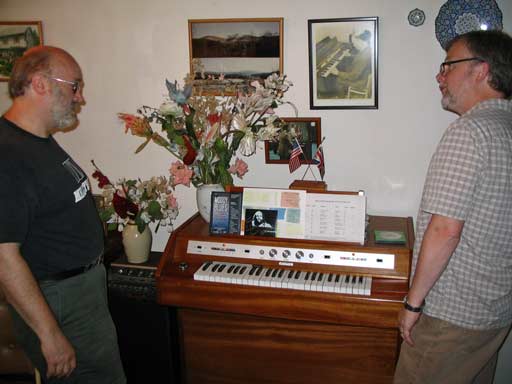 The M300 plays just fine, and this machine has a bunch of 60's influenced "Beach Blanket Bingo" style sounds. Groovy, baby--really wild! This model is the odd duck in the Mellotron world with 2-track 1/4" tapes and the longer keyboard. Yep, it cycles like the Mark I, Mark II, and FX Console. And, like those older guys, it's a heavy beast. Although this particular machine was the one that fell off a forklift and split open, Jerry has set it right, and it looks pretty much brand new.
I'd say that you could eat off it, but Mali prefers that you eat at the table.
Now that Tom was properly introduced, it was time for the unveiling...-->