Meet M400 #104 "Before"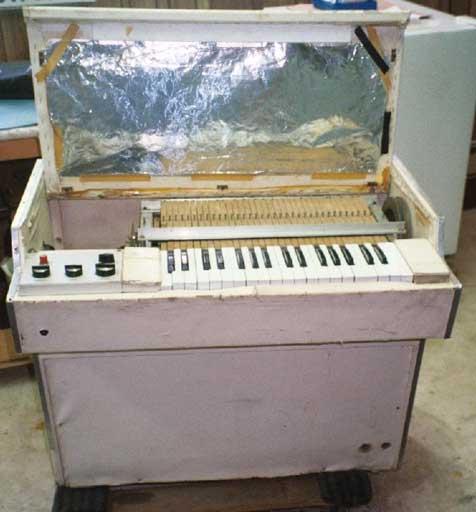 Mellotron M400 #104 spent its life as the Mellotron for the band Triton. It was covered in some kind of Tolex-like material, and it was edged with metal banding. I'm sure this machine saw a number of venues in its time!
Why the tin foil hat? Undoubtedly noise shielding. I think I can spy the top of a CMC-10 there---the noisy, unreliable, hopeless old 2nd generation M400 motor controller that should be relegated to the trash heap. If you see one on EBay and think that it's some amazing artifact, I've got two or three I'll sell you for that $500 bid you were thinking of putting in (each, of course). Just ask. They're great wall art for your studio, actually. They're not so great in your Mellotron.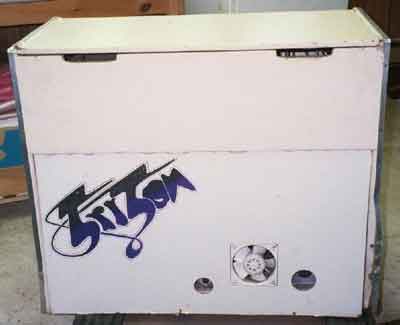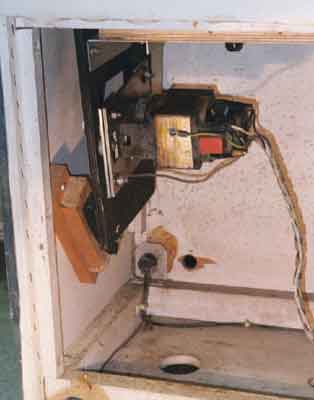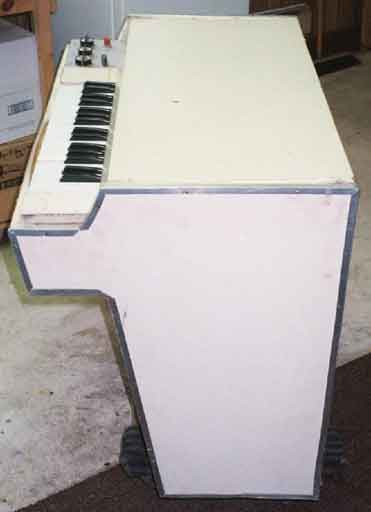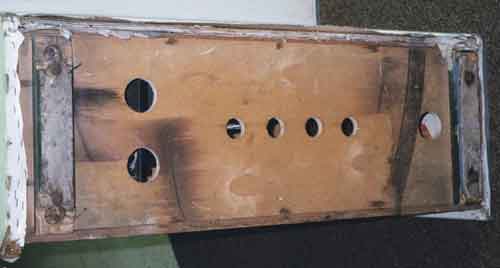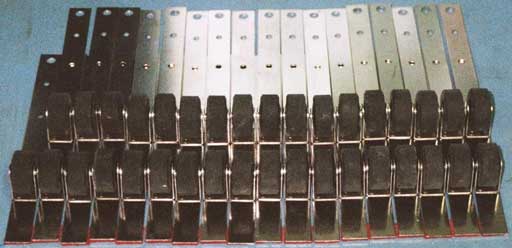 Not atypical, the insides and outsides were showing their age, and there were some customizations, such as the cooling fan.
The pinch rollers? HA! After 40 years these things had morphed into tiny wheels of charcoal and were replaced with a brand new set from Streetly.
Don't ask about the feets. Those vanished long ago and were replaced by hardwood replicas manufactured at the Mellotron Ranch.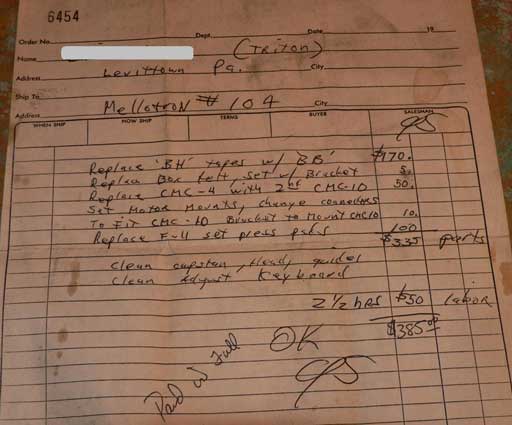 Wow! The original receipt for BB tapes and...ugh...the CMC10 "upgrade" from 1972.
And...are those initials "GS"??? Yep!
Jerry's been there, seen all this before. This one was going to get the usual overhaul, but there was more to come: restoration of the M400's original CMC4 motor controller and sealed motor. Why? Check out the video, and you'll see the pitch bends---very like the Mark I/II, a bit of a lag but very smooth. Nice. Every M400 should be cool like that. The SMS series controllers don't quite have that same pitch bend.
The Work
Jerry sent along some photos of this unit in progress. What's great is the cabinet, made of sturdy stuff as with all old M400s--none of this fallaparticle board which appeared in the units after the initial runs. So Jerry could really do a lot with the cabinet.
But what this does mean is more weight. With the change in mechanicals (the heavier power pack and motor), the sturdy cabinet, and the new feets, this M400 isn't 122 pounds. It's closer to 150. How would you like to gig with that, Duncan! Although maybe all your stickers bring yours close to that, yes?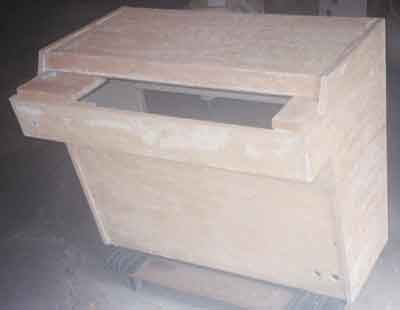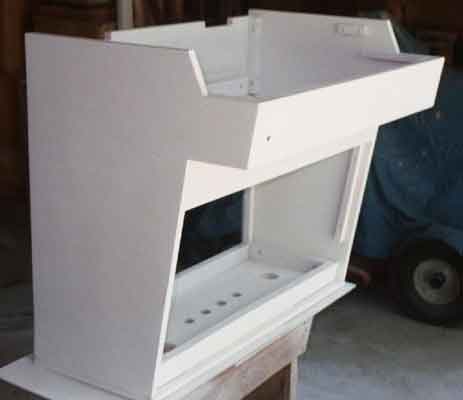 How many M400s have nice, clean edges like that? Maybe some of the older ones. Not mine, that's for sure!
Now about that paint...
Jerry uses an epoxy system to paint the machines he restores. The finish has just a little texture to it, and it looks thick and solid, with your choice of gloss.

We heard, though, that someone was concerned that this paint wouldn't stand up. So we took a little time to bash some around.

Jerry happened to have a scrap piece of wood he didn't prep but just happened to have a coat or two of the stuff as overspray or as experiments to look at the color. What would happen if we abused that sample with a rock wall (red), a ball peen hammer (green), and a chisel (blue)?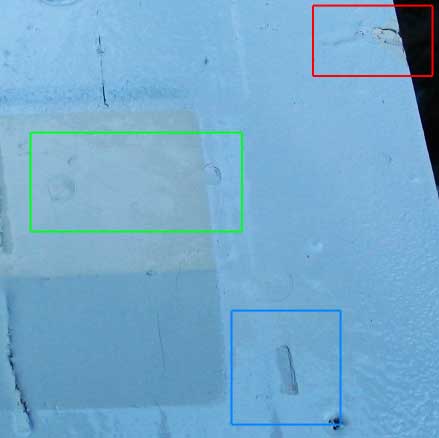 The surface is amazingly durable. In red you see a chip taken out after we whacked the board against the edge of a rock wall. The wood chipped away, as did a small chunk of the wall. In green you'll see two rather hard ball peen hammer hits. The paint cracks only after you've put a divot into the wood. Finally in blue is the chisel, driven by a hammer. Attempts to score the paint with the chisel (no hammer) didn't do a thing. (All the other cracks and holes you see were in this scrap piece of wood to begin with.)
The conclusion we drew from this? This epoxy is good stuff and up to the task.
The power pack needed to be modified to be compatible with the CMC4: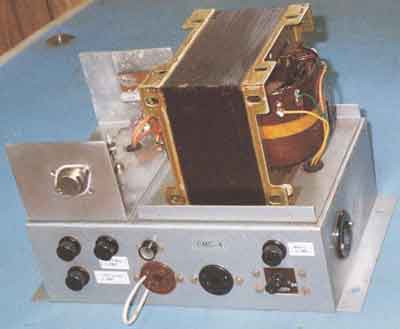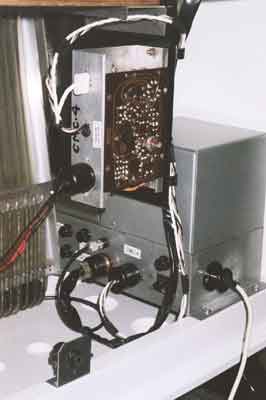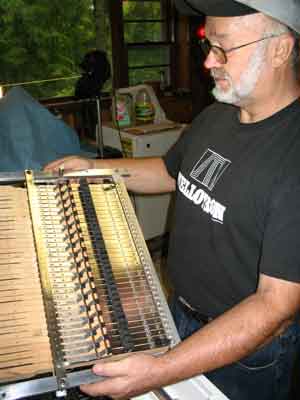 With the mechanicals done, the keyboard and pinch rollers taken care of, and the cabinet restored, click here to see how it turned out.