Vermont Miscellany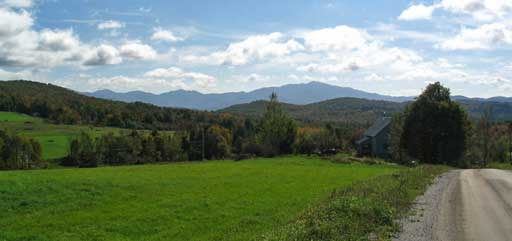 Mt. Mansfield. This is really beautiful country,
although the winters do get a bit challenging.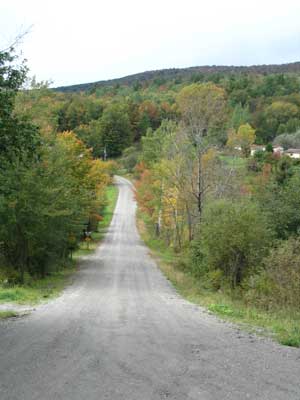 I spy a little fall color. Yes, it's a dirt road.
And real trees. Apples. Chickens. All that.
RAIL TRAIL IN JERRY'S FRONT YARD (well, within a few miles anyway...)
Yours Truly has gone a bit overboard on rail trails since purchasing a bicycle in 2011. Imagine my surprise when Jerry and I went for a drive into town where we stopped at what was obviously an old railbed, complete with a spur that already has a nice gravel surface and several joggers making use of the trail. Jerry wanted to clue me in about it--I had no idea!

Running nearly 100 miles from St. Johnsbury to Swanton, VT, the Lamoille Valley Rail Trail, when complete, will become a major recreational highway for the area--and one of the longest trails in New England. At the time of my visit to this old trestle that will be part of the trail, the trail construction was held up by some enviro-wackos and red tape, and it was nearly canceled. But in 2012 the trail received necessary blessings and permits, and a section will be underway soon.

Snowmobilers and adventure (long-haul) bicyclists will enjoy this trail when it's done, and those in nearby communities will use it for a daily jog, walk, or bike ride.

For more about rail trails, see the Rail Trail Conservancy.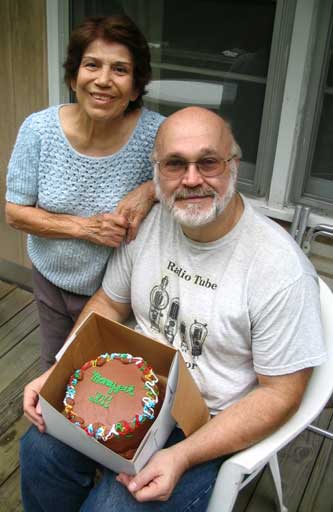 "Moneypit 2011" chocolate nom-noms from Mirabella's

A TRIBUTE TO THE NYFD
Hardly a day goes by in the United States where we don't hear about or think about the tragedy of September 11, 2001.

One of the things that still amazes me is the heroism of the first responders, helping get people out of the buildings that were struck, putting their own lives in danger to do so.

343 fire fighter heroes died that day.

This is fire alarm box #343, fully functional. It was on display at the firehouse in Jerry's home town over Memorial Day 2012. No. 343 attracts many first responders from all over when on display.

Signing off...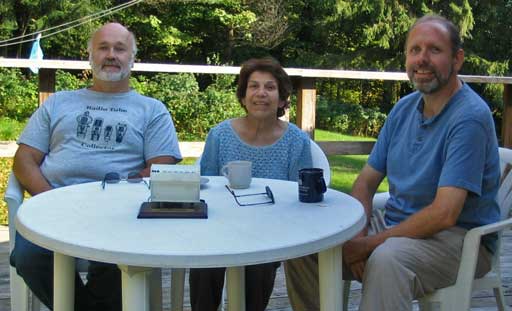 Jerry and Mali Korb, Ken Leonard
Delightful time in Vermont, delightful hosts, delightful weather. And a GREAT 'tron restoration!
But it was time for me to bid the Mellotron Ranch a farewell for the 200+ mile drive home...and it is now time to sign off on this report.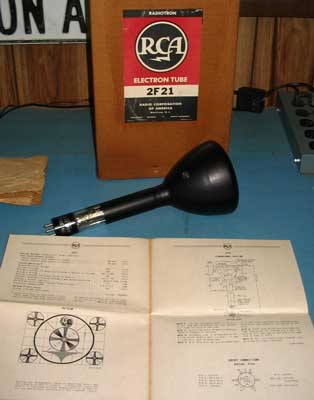 Yep, that's where the old Indian head TV pattern comes from.
The tube is called a "Monoscope", used only in TV stations of that era.
Click here to go back to the start page...