MEDESKI, MARTIN, & WOOD: Sound Check and Show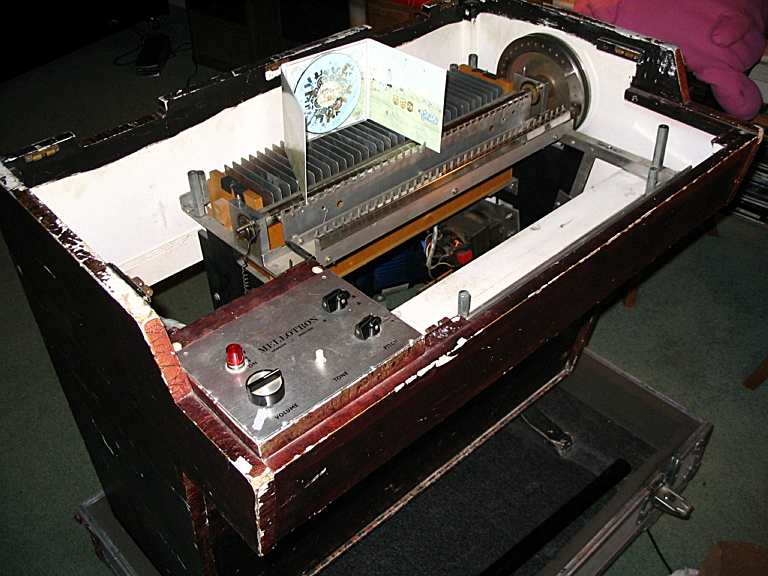 M400 #408 is owned by John Medeski of Medeski, Martin, & Wood. MM&W is a jazz improv trio commonly found haunting the New York City and surrounding areas (although they do tour all over together and in separate side projects).
John Medeski has an interesting Mellotron playing style. Note how there's no lid on the machine. That's intentional. While playing, John will reach in and grab the flywheel to modulate the speed of the tapes. He'll even stop it cold and play while the tapes are coming up to speed. And, yes, he even plays scratches with it.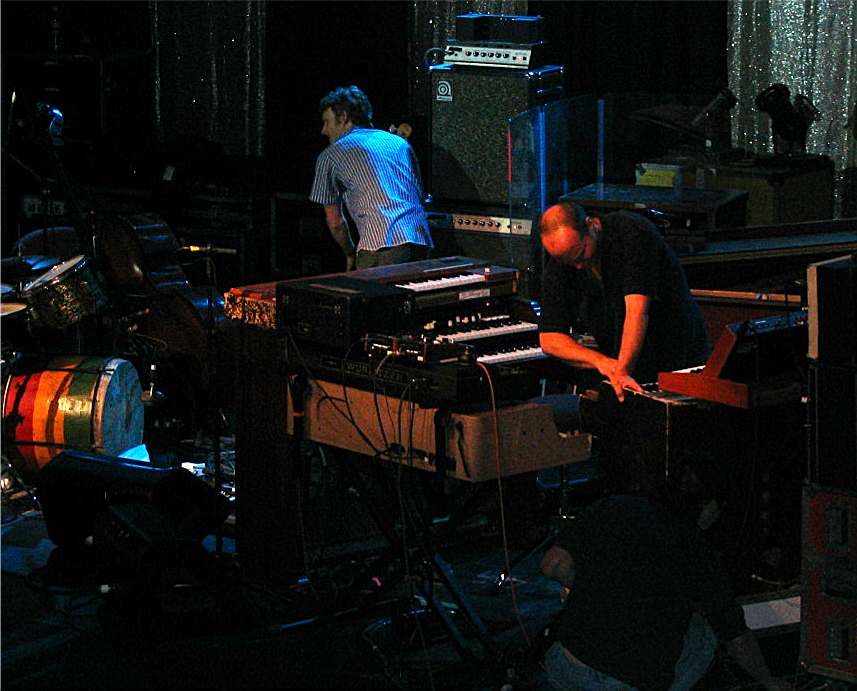 Medeski's playing style is rather physical. He'll focus on an instrument or two for a song, using other keyboards incidentally, playing all very actively and sometimes with a heavy hand. The next song will get a different instrument focus. To support this physicality of style, John prefers chunky instruments in his rig. In addition to the Mellotron, there's a Wurlitzer piano, a Clavinet D6, a piano, and a Hammond A-100. He's got a Roland Space Echo for an effect. Truly an all beef lineup. On the slightly less beefy side are a small cheesy Wurlizter table top organ, a Minimoog Voyager, and a few Moog effects. The instruments are fed into a bank of tube amps that are picked up by microphones for the house PA system. Add a few volume pedals, and you about have it.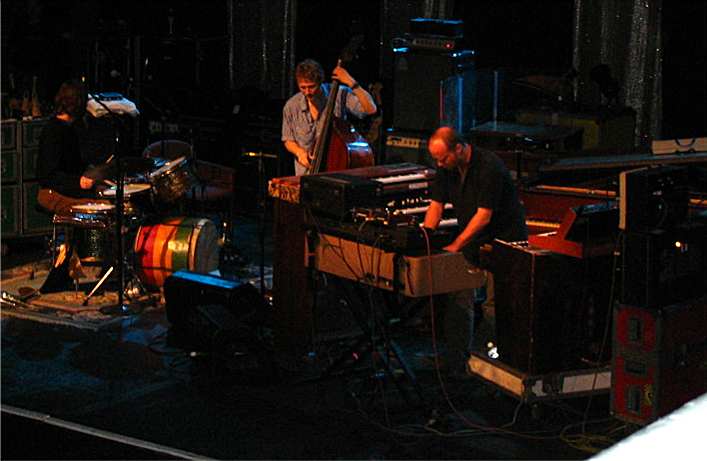 The sound check was great. The trio played some snippets from "Anonymous Skulls", a Mellotron-laden track from "End of the World Party (Just in Case)." Chris Wood's upright bass just got a new pickup, and it shook the walls!
Then...GAAK! It was during the sound check that the Mellotron's B-flat in the 2nd octave---one of the tapes that usually wouldn't return for John---went all the way up in the column and didn't come back down---a case of strangulation through the house PA! Jimmy and I dashed down to the stage and began adjusting. Sure enough, the pinch roller was a bit lower than it needed to be, so I backed everything off that key and readjusted it to be much lighter. It was fine from then on. I was pointed to the highest key, which, unfortunately, was cranked down a bit, and I did my best to adjust it. Unfortunately I think that the pinch roller has about had it (the axle/bearing), and it'll need to be replaced. Still, it---and all the other tapes---played through to the end without too many wobblies and returned correctly, near as I could tell. This could be a prime example of use your 'tron and it'll play better. This 'tron sees a lot of use and some pretty hard playing, but it has held up so far.
Adjusting done, we were tossed out of the venue so the piano tuner could do her thing, and we went to a local diner for grub. And, of course, Your Webmaster was tense thinking about how the 'tron would perform during the concert. We returned back after dinner and waited for MM&W to take the stage, which they did around 9, and Jimmy and I spent the entire first set on edge waiting for a tape to jam up or something equally stupid to happen with the Mellotron.
But #408 did its thing quite nicely all the way through! John was having fun with it, too. One of his new sounds--bass clarinet--sounds like it's breaking wind in the lower notes when the tapes are slowed a little, and he had fun with that sound while reaching in and grabbing the flywheel.
The MM&W concert started out with a bit of stuff that was out there a bit, and as the night went on things became a bit more "standard". There was a salsa (with Medeski hammering on the piano), some blues, and even two local drummers sitting in on some jazz covers. I wish they had done "Anonymous Skulls" from "End of the Word Party (Just in Case)" which has a good smattering of Mellotron parts. But they had plenty of other things to play.
For the finale the trio did "Queen Bee" off their "End of the Word Party (Just in Case)" CD, and Billy Martin wouldn't end the show---he'd continue drumming and grin over at John, who'd have to keep playing! John was spent, and I could only imagine what he was thinking with Billy taunting him!
It was a great show, and Medeski, Martin, &Wood play their butts off. They play a lot in the NYC/PA area, so check 'em out.
With the venue cleared out, we went backstage to say good night to Mr. Medeski and thank him for a great show.
And it was our time to head back to the Moore Estate south of Philly. In the following days, we'd be spending some time in The Basement where "Improvised Waves" was recorded. -->