JOHN BEZJIAN
Have a look the next time you load up your E-mu sample CD. John's name may be there.
Your Memorymoog has the awesome program #21 "String Sound" patch, right? That's John's. He was working for Moog at the time of the Memorymoog and made the suggestion to the lead engineer to change how the speed (frequency) of VCO 3 tracks the keyboard when it is used as an LFO. By routing that to pulse width modulation of VCOs 1 & 2, it creates an "animated" phasing on each oscillator, the key behind program #21 "String Sound".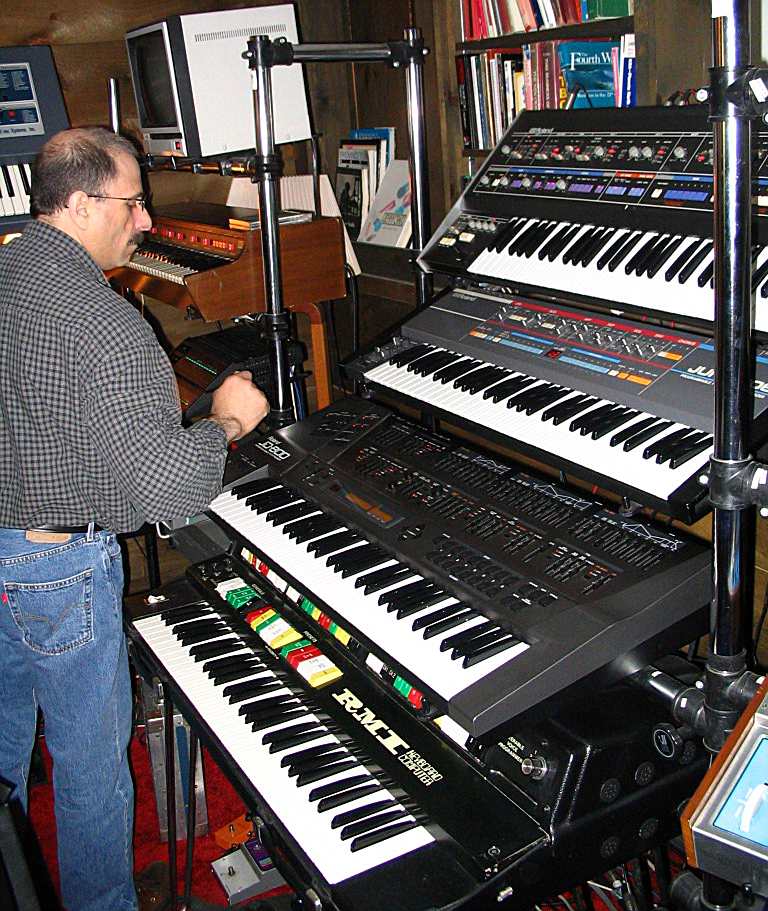 John and the Jupiter 6 (mint), Juno 106 (mint), JD-800, RMI Keyboard Computer.
You can see a Solina String Ensemble and a Moog Source.
The keyboard stands are John's idea (standard connecting hardware to non-standard tubing).
John has been around the music business for more than 30 years, and he's been into Mellotrons since acquiring an M400 in the early 70s. In addition to sales and demos, he's no stranger to producing/engineering, scoring films, writing songs, recording a synth-based Christmas album long before anyone had heard of Mannheim Steamroller, and being a session musician. If you have James Young's (guitarist from Styx) second album, you'll hear John on keyboards. On the technology end he's done synthesizer programming for various artists (Peter Frampton, REO Speedwagon, and more) and worked for a west coast Synclavier

distributor, Moog (sales, synth programmer (many of your Memorymoog's factory patches, btw)), and Fairlight. His final stint in the synthesizer world was at a little company called E-mu where he was an expert at the Emulator III and helped bring the early ROMplers and ESI series of samplers into being (he designed a lot of the sounds and was quite demanding about any vintage synth sounds E-mu wanted to include). In addition to giving private synthesis lessons, John has also taught courses on synthesis and sampling at the UCLA extension school.
Think I can learn a thing or two from this guy? Errr...yeah, about a lifetime's worth. I'm trying to get John to write a book. :-)
John is now helping his partner with his business, and he's looking forward to spending more time in the studio and certainly more time becoming reacquainted with our new addition to the MONEYPIT Mellotron Collection, the Mellotron Mark V "Mark".