Jerry Korb
a.k.a. The Mellotron Professor
Jerry "Mellotron Professor" Korb lives with his wife Mali in the woods of northern Vermont, not far from Smuggler's Notch or Essex, kinda in between Montpelier and Burlington if you went out of your way a little.

The Korb residence is a ranch-style house set on the height of land on 7+ acres. Accessible only by a dirt road, you can't see any other house from his, although there are some nearby. Out the back door is a view of a nearby hill (great in the fall when the trees change color), and out the front door is a view of Mt. Mansfield when the leaves are down. Jerry spends some of his time chopping wood for the wood stove, which helps heat his place during the colder months. On the sunny days it's nice to sit out on the back porch or take a walk down the road. At night the stars are plentiful. This ain't no city living, and in my book it can't be beat.
For several years Jerry was employed by Leica as a contractor to IBM in Essex, VT, involved with the manufacturing of computer chips---engineering, logistics, manufacturing, machine upkeep, you name it.
As you've seen elsewhere on this site, Mellotrons are Jerry's game. He bought his M400 new back in the mid 70s when he played in a band that did some Moody Blues and Genesis covers. Since then he created the JK-MK6 from two Mellotron M400 machines, rebuilt an M300 that was dropped, and most recently restored "Julia", a Mark I. In the fall of 2003 Jerry brought back to working condition a Mark II purchased by "The Mellotron Book" author Frank Samagaio.
Jerry is also available to work on or restore your Mellotron, too. Please drop me a note, and I will put him in touch with you.
| | |
| --- | --- |
| | But...it doesn't stop there. Jerry is also a collector of Edison memorabilia and has a vast array of light bulbs of all types. A few years ago he also began collecting telephone/telegraph pole insulators. And Jerry is heavily involved in researching and preserving the Morris Canal in NJ...and he recently became interested in the local railroads. What's next? Who knows! |
LET THERE BE LIGHT
Jerry has collected historic light bulbs for over 30 yrs. He now has a museum-size collection of the earliest Edison bulbs to the largest/newest items. His bulbs appeared in many places, from news-articles to TIME-LIFE™ Books. Jerry's one of a select group of vintage lighting historians, recognized by many firms and organizations, who often forward inquiries to him
from individuals. He recently participated in appraising the world's largest collection (60,000 bulbs) in Baltimore.

LEFT: Hand-made bulb from 1885, Lynn, Massachusetts. Bamboo filament, non-standard base
| | |
| --- | --- |
| | Early tungsten filament, circa 1910. It's the size of a football, and it's a bright 250 watts. This bulb was discontinued in 1916. (Click on the thumbnails to the left for larger pictures.) |
| | Another tungsten filament, this time from around 1950 in a studio spotlight. Glowing at a mere 10,000 watts, this would make your electric meter spin out of control, drawing 83 amps at 120 volts. |
THE GLASS ART OF INSULATORS
For decades telephone and telegraph poles were adorned with the most unassuming glass insulators. People took them for granted, something that would always be there, so they gave them little thought. Many were made, but, as it turns out, precious few were preserved, most just tossed aside as junk. These gems have been replaced by drab, common insulators on top of today's power poles.

Have a look at this scene above Jerry's front door (click the thumbnail above). Each insulator is a small piece of art, and it glimmers as it catches the daylight. There are big ones that look like giant mushrooms, some that look like the headgear warn by the Gallifrey leaders on Dr. Who, some that look like they'd be at home on a rowboat holding an oar, and some that look like spaceships. All different colors, too.

If you look carefully, you will see the threads running through the middle of these gems. The insulators were screwed onto threaded sticks and perched atop the telephone poles, much like you'd screw a broom handle in.
THE MORRIS CANAL PROJECT
Jerry has taken his passion for things yesteryear to the hills of NJ to research the unique Morris Canal (1824-1924). It was the highest climbing canal ever built, overcoming 1674' elevation change over 102 miles. The Morris Canal used 23 inclined-planes to raise/lower boats up to elevations of 100' (the only canal in the US to do so) and had 34 conventional locks.

Jerry spent his early years on the shores of Lake Hopatcong (Lenape name), which also was used to supply the Morris Canal with water, and later became a summer resort.

LEFT: Morris Canal restored at historic Waterloo Village, New Jersey
Photo taken in late 2000 at the eastern end of the Morris Canal at Liberty State Park. Note the World Trade Center towers in the background.
Perry's Store is located in Port Murray, Mansfield Township, Warren County, New Jersey. It was built in 1836 and is an original canal store--intact.
Plane 8-East, Montville, New Jersey.
Vertical Rise: 76 feet, 10% grade.
Wire rope: 2.25" diameter made by John Roebling (35 years before the Brooklyn Bridge).
Power-Source: 12 foot Hydro Reaction Turbine 30 feet underground, installed 1848.
Water Source: 5 foot square intake raceway flume (pictured), 1200 CFM full-power.
Capacity: 100+ ton load , 4-minutes uphill under full-power test.
Powertrain: Differential bevel gears, 14 foot cable drum, 10 inch main shaft diameter.
Cargo Lift Time: Average of 12 minutes. Would take 2.5 hours using 7 ladder-locks.


Built in 1831 and perfectly intact, this is the stone entry arch to the
Morris Canal on the Delaware River.

Mellotrons, music, Edison, living on a back road in Vermont, and his work on the Morris Canal are the driving forces behind Jerry's passions and interests today. He eagerly anticipates what's to come but feels it is our duty not to discard what went into yesteryear. After all, we can't look ahead without first glancing back where we came from.

Oh---Did I mention that Jerry is a great dancer? :-)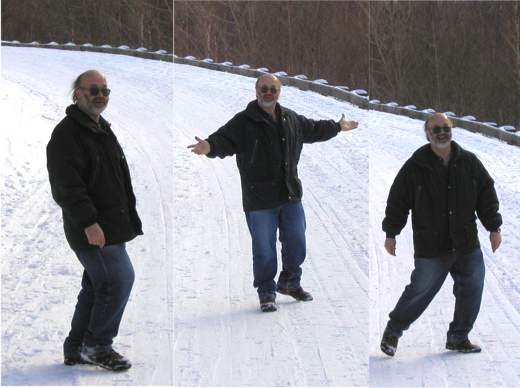 I must extend my personal thanks to Jerry. Back in 1998 he helped Ken Merbler and me begin to understand the Mellotron M400, especially keyboard adjustments. And all along he's been fielding questions from me (and others for that matter). Recently he helped me work on a machine, diving in even more than I did to get it cleaned up and running, including doing all of the diagnostic work and rescuing the capstan. Meanwhile he and Mali were gracious hosts for my visit to Vermont, as they always are whenever anyone drops by. Thanks, Prof!

Photos: Ken Leonard, Ken Merbler, Jerry Korb
Text: Ken Leonard with contributions from Jerry Korb
Nope, Jerry didn't know this page was being created for him. He thought he was contributing to the MONEYPIT March 2003 report. :-)