THE MELLOTRON WORKSHOP/DEMONSTRATION
SETTING UP
On Saturday evening we arrived at St. Mary's Hamilton Village in Philadelphia to unload all the gear and begin setting up.
In addition to the Skellotron, we had Jimmy's Formicatron, Jeff's M400, and Brad's refurbished Novatron

, which had arrived not too long ago from Streetly (and looking quite stunning).
Jeff and Jerry got things set up



, and Jerry put out a wide array of Mellotron artifacts

.
THE WORKSHOP
The spectators began filing in a little before 8pm. It is my understanding that about 30 people were there for the evening, and all of them got eyes and ears full of things 'tronic.
Chuck van Zyl, our host for the workshop, got things rolling.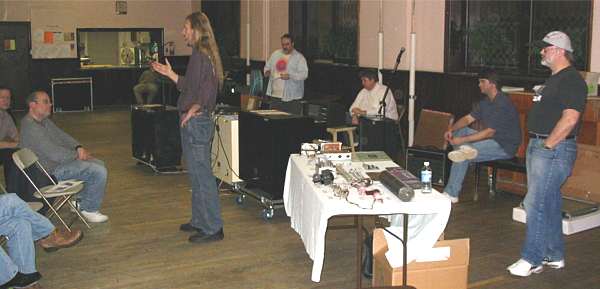 Jeff gave an intro, and Jerry Korb stepped up to give a talk about the history of the Mellotron and the company.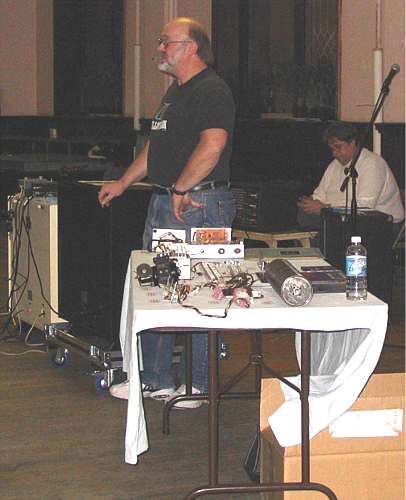 | | |
| --- | --- |
| | Yours Truly then went about describing the workings of the Mellotron, showing bits and pieces of the Skellotron. |
We then had a few break-out sessions. Brad, Gino, Jeff, and Jimmy demonstrated the working machines and the various sounds. Several people went over to talk with Jerry about the bits and pieces of Mellotron archaeology he had sitting on the table. A bunch of people stayed with me to see if I could get the M400 assembled---and working. I think they expected smoke to come out. To be honest, so did I. :-)
Soooo...What happened when I got #1037 all back together and turned on the power switch???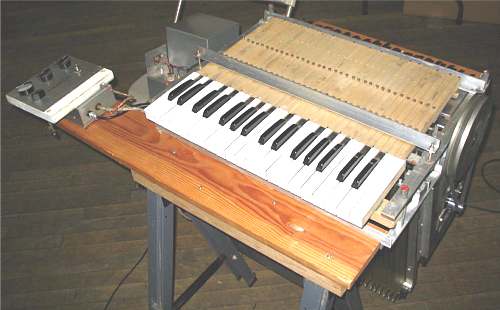 It didn't work! :-)
Well, OK, it spun up, but there was no motor speed control, and the motor was running a little fast. Still, sound came out, and the folks cheered (Thanks! :-) ). This problem appeared when I first assembled the machine several months ago, and it's baa-aaack. BUT when I got the machine home and assembled everything again on a workbench, it ran fine. Go figure. Gremlins, I think.
After that little bit of semi-success, Chuck closed out the evening, and we started breaking down the equipment. Man, that's a lot of work...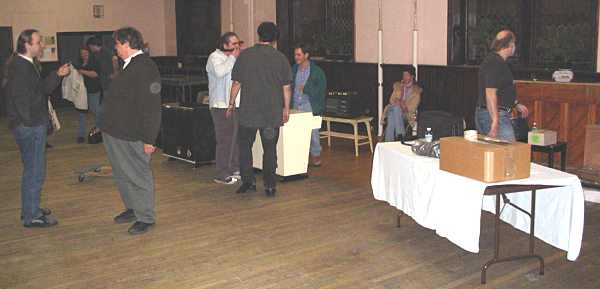 ...but it was a lot of fun!
It was a bit of an effort to get things loaded up, but after about an hour we were on our way. -->