MIDI Equipment and Other Gear...
As you've probably read elsewhere, I'm very much into electronic music. That means MIDI, sequencers, and synthesizers---new and vintage.
Right now I'm just a hacker---I like to "make noise"---but I really have a great deal of fun putting down some good tracks. Most of my better things are done when I'm simply "noodling around" on the keyboard (we all know what that's like). I'm a long way from Carnegie Hall, but, hey, it's fun!
The pages on this mini-web are dedicated to the gear I've tossed together over the years. That's right---years. No, I didn't go out and get all this at once. So if you're going to start getting into this, learn about the synths you want (use the resource on the Synth Links page), and start looking at your want ads.
it's amazing that any of it works together at all. Thank goodness for "standards" that almost everyone believes in. If you find a piece of equipment on my list that you know a bit about, have a question on, know of killer patches, etc., drop me a line!
Use the links above to visit pages with more detail about a specific piece of equipment.

The Gear...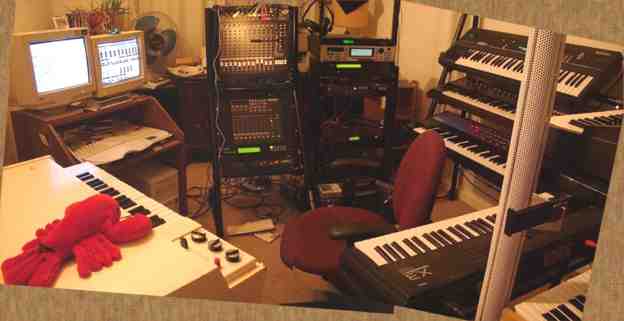 Setup as of March 11, 2001.
Clockwise, from lower left: Mellotron M400 (with Lulu); the PC; Rack #1 with mixers and effects; Rack #2 with synth modules and Midi Timepiece; A-frame stand with ESQ-1, PolySix, and FIZMO; and finally the "department store rack" ($15 at a flea market in Nashua, NH) with the MG-1, Mini, and X3.

Ensoniq FIZMO
Why the microphone? It's got a vocoder!
Realistic/Moog MG-1
with the Roland PG-10 underneath

Lulu the Lobster on the Minimoog
with the Korg X3 underneath

Mellotron M400 #805 is at the bottom
The Rack

Mackie 1642
Roland D-110
Kawai K5000R
Yamaha TX-802
Roland M-VS1
Roland MKS-80
Alesis MidiVerb4
Korg DRV-3000
Lexicon MPX-100
Kenton Pro-2000
MOTU Midi Timepiece AV
...old Sony receiver :-)
Added in fall 2004: ARP 2600 synthesizer, "The Problem Child", with 3620 keyboard.

This unit was in the shop for a while, was fixed, but a few more problems cropped up, so it went back into the shop. It's back now.

However when this machine is working, it is not just "fat", it's "drippy fat".

Also new in the collection is the ARP 1623 Sequencer.
Where is all this stuff?
My lack of space has forced me to move everything to the Music Mill Rehearsal Complex, near where I live. Even dear old Mellotron M400 #805 has been trundled over there in its big Protect-O-Muff...sigh...well, at least I can pop in after work and make noise! Who knows---maybe after being around all the real musicians, something may rub off!
Naaahhh...
Gear Summary & Manufacturer Links
M-VS1
Vintage Synthesizer module. Don't play any Mellotron patch on this synth out of range, please.
MKS-80 (2)

MPG-80 Programmer (2)

Also known as the Super Jupiter. This is a fully MIDI controlled rack-mount follow on to Roland's classic Jupiter 8, but it has elements of the Jupiter 6 and Jupiter 8. With its 16 oscillators, the bi-timbral MKS-80 is capable of a wide range of analogue sounds, earning it the nickname "The King of the Analogue Synths." If you get one, make sure you get the MPG-80 or a PC/Mac program like SoundDiver to edit the patches.

I landed a second MKS-80 when I purchased the MPG-80. Each MKS-80 unit sounds different, as different ranges of serial numbers used slightly different components.

D-110
Older multi-timbral synthesizer module that uses "Linear Algorithmic" synthesis, like the D-5, D-10, etc.
ARP
2600
Three oscillator normalized patchable monosynth.
Korg
X3 Music Workstation
Digital PCM-based keyboard with on-board sequencer
PolySix
This is one of the early polyphonic synthesizers. Despite one VCO (main sound source), this synthesizer has a full and quite distinctive sound. The PolySix has an arpeggiator and can store programs on cassette. MIDI wasn't available on the earlier units, and the Korg MIDI factory kits are long gone. IOTech still offers a MIDI retrofit kit for the PolySix, but there's a catch: It'll cost you more than a used PolySix with factory MIDI---if you can find one (but the IOTech offers some serious features). Kenton used to offer MIDI kits for the PolySix, but they have stopped production. Fortunately there are one or two other simple MIDI kits that are cheaper---details on the YahooGroup web site:

Check out and subscribe to the PolySix YahooGroup

Because the old PolySix e-mail list went away, I started the PolySix e-mail list over on YahooGroups. Click the above link to visit their site, and find the link to the PolySix "Digiest" Page. Subscribe to the YahooGroup, too.

DRV-3000
MIDI-controllable effects processor. Cool feature: No buttons, just a remote control! Sound quality? Well...ummm...Go with a Lexicon.
Mellotron
M400 (#805)
Mellotron M400 #805 arrived on April 10, 1998. Younger brother #1037 was retrieved from Toronto in October 2003.

The M400 is Mellotronics' (now Streetly Electronics) most popular tape replay keyboard, played by the likes of Rick Wakeman, Genesis, Yes, Tangerine Dream, and even modern recording acts such as Oasis and Radiohead.
Mellotron Archives has begun to produce a brand new Mellotron, an update to the M400: The Mark VI. Drop by the MA site for information about how you can own one, too!

There is much more to come...

'tron-related YahooGroups:
Mellotronists - General Mellotron discussion
MONEYPIT - The New England Mellotron Owners List
Go to the YahooGroups web site and subscribe!
SYMPOSIA and more

Moog
Minimoog
The classic analogue synthesizer. When Bob Moog realized that the huge Moog Modular synthesizer was too expensive and complex for most people and too big to move around, Moog Music, Inc., set out to design a small, portable version. This synthesizer, despite its lack of polyphony and only one voice, set the analogue synthesizer world on its ear. They are so popular that a company going by the name of "Moog Music" was producing them again to the original specifications (although some doubt that). Or is Moog Custom Engineering the better Moog incarnation these days...?

Well, fortunately, Mr. Robert A. Moog was able to again obtain rights to the Moog Music moniker. Since then he has produced a new, updated version of the Minimoog: the Minimoog Voyager.

Check out MOOG memorabilia and photos at the MOOG Archives site.

Realistic/Moog
ConcertMate MG-1 (2)
Analog synthesizer built by Moog for Radio Shack The Mini's little brother (as were many of the mid- to late-70's Moog monosynths).

I have since picked up a second one...

Hammond
A-102
A Hammond Tonewheel organ, c. 1965. Similar (identical?) to the B3, except it has internal amplification. The A-102 was built in the French Provincial style and has Queen Anne's Legs. No doilies, please.

The original Hammond Company has been purchased by Suzuki, Inc. Don't expect to find any tonewheels there, as all new Hammonds are pretty much done with electronics.

Yamaha
TX802
FM Tone Generator module. 8-part multitimbral, kinda the rack-mount DX7II.
DD-50
Department store digital drum set. Great way to take out the stress of the day!
Kawai
K5000R
Additive Synthesis Module
Ensoniq
FIZMO
Ensoniq's "Transwave" synthesizer from around 1998. It can create very weird and lively sounds which change over time, and it's fun to program. It has a wealth of effects, a vocoder (!!??), an arpeggiator, and lots of modulation routing. It was a very good deal, so I snapped it up to see what I can do with it.
ESQ-1
Digital synthesizer/workstation, known for the variety of sounds it can create and its ease of programming. Got an ESQ1 or other piece of Ensoniq gear? Start here. Click over to Buchty's page---it's great for ESQ-1 owners!
Mackie
1642-VLZ Pro
16-channel Mixer
1202-VLZ
12-channel Mixer
Midiverb4
Two-channel MIDI-controllable effects processor. Decent UI, lots of parameters to tweak. Sound quality? Mid to high quality.
Andromeda A6
Perhaps the most powerful analogue synthesizer ever made...?
MPX 100
Two-channel MIDI-controllable effects processor. Sound quality? You need to ask? It's a Lexicon! A cheap one with somewhat limited functionality and a knobs-only UI, but it's very smooth and very much worth its low-end price.
Kenton Electronics
Pro-2000
Two-channel MIDI-to-CV converter to control the MG-1 and Minimoog via MIDI
Cakewalk (formerly Twelve Tone Systems)
Cakewalk SONAR

Project 5

Sequencing and digital audio recording software. Now with "DXi" synthesizers, which are software synths based on Microsoft's DirectX and WDM drivers. They have surprisingly low latency (time it takes for the note you hit to make sound). My rig can do about 25ms---noticeable, but not too bad.

See Cakewalk's Direct X-Files site for more information about DirectX effects and DXi synthesizers.

Event Electronics
(now ECHO Audio)
Gina
Multi-channel PCI bus digital audio card. 2 in, 8 out.
Mark of the Unicorn
MIDI Timepiece AV
8 in, 8 out MIDI patchbay module. If you have a lot of MIDI equipment to hook to your PC, do yourself a favor and get a configurable patchbay like this.

WARNING: Only the oldest possible drivers are available at the MOTU site (as of July 3, 2001 anyway). Cross your fingers that this unit will work going forward as your operating system is updated.

E-Magic
SoundDiver
PC-based patch editor/librarian. This software has the ability to create, edit, and store patches for the vast majority of the MIDI-based synthesizers on the planet (which thankfully makes up for its rather bad UI and bugs).

This product has been discontinued on the PC. :-(

Native Instruments
Pro-52
A software synthesizer of the Sequential Circuits Prophet 5 synthesizer. I have heard it do some amazing digital aliasing, so I don't use it all that much. Also if this software synth is indicative of the Prophet 5, the Prophet 5 was a rather limited synth---but it sure got a lot of hype (and use) in the 80s!
Arturia
Moog Modular V

CS-80V

I have two software synthesizers from Arturia:

| | |
| --- | --- |
| | Moog Modular V is a virtual Moog Modular. It comes with a very healthy complement of modules including a sequencer. Yep, you drag around virtual patch cords to hook together the modules. Nice sound. |
| | I have yet to really get into the CS-80V, which is a virtual recreation of Yamaha's monster. |
Retired (or semi-retired) Equipment
Kawai
MX-8R
Keyboard Mixer (now using the Mackie 1642)
PG-10
Linear Synthesizer Programmer (for the D-110) (now using SoundDiver)
JL Cooper Electronics
NEXUS Midi Switcher
MIDI switchbox (3 MIDI-ins, 8 MIDI-outs) (superseded by the MOTU Midi Timepiece)
Creative Labs
Soundblaster 16 ASP
Sound card, with Emu Wavetable daughtercard (outdated, noisy, not good for recording).
Yamaha
PSR32
Older FM-based (OPL-3 chip) MIDI keyboard. From a department store in the mid 80's. 'nuf said.
MT1X
4-track cassette based multi-track recorder (there solely for recovering stuff from old tapes if needed)

Top of page...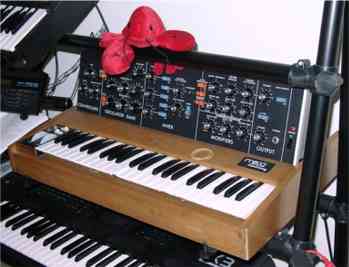 Well, it's better than a crab on an organ...
Speaking of which...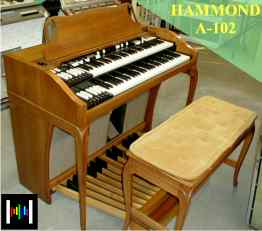 YOU THOUGHT THEY'D NEVER HAVE THE GUTS TO DO IT.
BUT THEY DID.

Top of page...