Improvised Waves
Mellotron and synthesizer improvisations
Ken Leonard / Jimmy Moore / with Brad Schuman
* * *
"... This is a nice release. ..."
E-dition Magazine #13, June 2006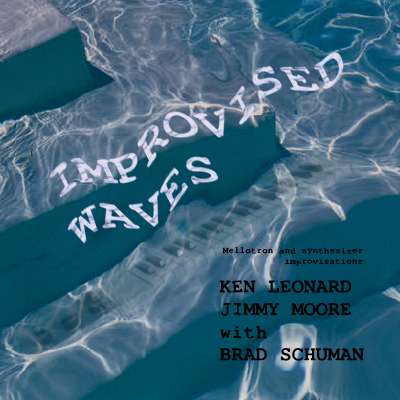 * * * 1/2
"... far better than most modern EM albums. ..."
Planet Mellotron
Improvised Waves: Mellotron/X3/A6 Electronic Improvisations
| | |
| --- | --- |
| | Ken Leonard - Korg X3, Alesis Andromeda A6, Mellotron (on "Arpeg Two") |
| | Jimmy Moore - Mellotron |
| | Brad Schuman - Guitar (on "Arpeg Two") |
Recorded in the basement of Jimmy Moore's home, outside of Philadelphia, Pennsylvania, USA during Christmas Week 2004. Edited/mixed/mastered by Ken Leonard January-April 2005.
4 tracks, 1:04:52 total time, stereo

is anyone else recording chilled out tron music like this?
you might have invented a new form of e.m here.
andy c. - the glimmer room
...it is amazing to hear how amateur keyboardists who had never played together before produced such interesting, flowing passages.

"...a great example of great Mellotron work. I highly recommend this CD to all Mellotron fans and enthusiasts."
- Allan, from the Mellotronists List
About Improvised Waves
Improvised Waves was recorded during Christmas Week 2004 by Ken Leonard and Jimmy Moore, finishing up with Mellotron and Electric Guitar overdubs on New Year's Eve by Ken Leonard and Brad Schuman. With its focus on the Mellotron playing of Jimmy Moore and synthesizer work by Ken Leonard, Improvised Waves takes an electronic journey from the upbeat Berlin School to ponderous space textures. "Flute and Piano" adds a "pleasant" touch.

Improvised Waves is "live" and completely improvised, with the only overdubs---also improvised---belonging to "Arpeg Two". The setting was the basement of Jimmy Moore's home outside of Philadelphia, Pennsylvania, USA. The recordings were edited, mixed, and mastered by Ken Leonard during the early part of 2005. No additional material was recorded during the editing process. By and large, this material is as it was during Christmas Week 2004.

These recording sessions were a conversation between musicians who were interacting by listening and communicating through various instruments. Having no planned templates, these songs are intuitive musical conversations in the simplest of terms.

It's a mystical, adrenaline-laced, excited feeling.
- Jimmy Moore

..."live" and completely improvised...
By and large, this material is as it was
during Christmas Week 2004.

This recording captures live, improvised, unplanned sessions and, although edited slightly, shows the...ahem..."live" nature in parts.

But it is amazing to hear how amateur keyboardists who had never played together before produced such interesting, flowing passages.

Fans of the Mellotron and classic electronic music might find the headphone journey irresistible.

A stunning example of pure musical chemistry. I'd have sworn it was a Berlin School CD featured on NPR. Brings me back to my early electronic music roots. And performed by my friends on my favorite instruments. Bravo!
- Mellotron Professor Jerry Korb
I listen to the completed CD a lot, even though I should probably be tired of it after the editing and mixing. In some ways the two longer "spacier" tracks remind me of my solo track "TellTale". It's music that I like, and it's even better when I'm part of it.
- Ken Leonard
Listen to excerpts from the tracks
Using the Windows Media Player, WinAmp, or similar piece of music playing software, you can listen to excerpts from the CD. Right click on the links in the MP3 (MPEG encoded) or WMA (Windows Media) columns and save as a local file to play from your computer at any time. If you prefer, right click on the ZIP file link in the bottom row to save all the MP3 files to your machine as a single bundle (you may need a software program like WinZip to read the ZIP file, but some computers (like Windows XP systems) understand ZIP files without anything special needed).
Excerpt from...
Time
MP3
WMA
1. Arpeg Two
1'36"
1.2MB
600KB
2. As the Water Recedes...
This excerpt contains four short sections
from the 27-minute long piece.
5'28"
3.9MB
2.4MB
3. Flute and Piano
1'24"
1MB
650KB
4. Track 1
2'09"
1.6MB
900KB
All MP3 excerpts in a ZIP file (save as a local file)
7.4MB
The short excerpts above give you a flavor for what the tracks are all about. To preserve album continuity, it is suggested that you listen to them in order.

"Fresh, honest, evocative, restrained (that's a good thing)."
"...absolutely essential mellotron album..."
- RMa on EMForum.nl
Track Notes

I'm sure that some of you'll like this cd...So many users are complaining permanently about missing analogue sounds...

- GeraldW, Tangerine Dream Forum

1. Arpeg Two was recorded in two passes. Early in the week Ken Leonard set up an arpeggiation on the Alesis Andromeda A6 and provided pads and leads on the Korg X3 Workstation. Jimmy Moore joined in on the Mellotron, generating the classic Berlin School sound. On New Year's Eve Brad Schuman showed up with a vintage Gretsch guitar. Jimmy and Ken had him plug in and start recording without letting Brad listen to the track first. Ken played Mellotron during the second pass, but he could barely hear it through the headphones... "Arpeg Two" had the most editing of the four tracks, with the creation of an introduction and the addition of a few more "crashes", but it's much as it was.

Oh, by the way, "Arpeg One" is here. No, it has nothing to do with "Arpeg Two". Ken needed a song title, and "Berlin School 1" was too derivative. :-)

...featured on WWUH's The Greatest Show From Earth

Brad used to play in a Grateful Dead cover band, and I admire his ability to just "sit in and jam" like he did on the Berlin School track. And if you listen to Jimmy's Mellotron playing throughout, you'll hear some interesting twists--from haunting one minute to something with a blues influence the next--stuff you might miss if you're not listening closely.
- Ken Leonard

Fans of the Mellotron and classic electronic music might find the headphone journey irresistible.

2. Christmas Week 2004 brought us the tragic news of the tsunami affecting southeast Asia. Jimmy and Ken wandered into the basement and just started recording, and eventually synthesizer patches that took them to Asia appeared. Jimmy's Mellotron provided mournful flutes. Synthesized bells painfully played "Mary Had a Little Lamb", reflecting on the many children who lost their lives. As the Water Recedes... is in thinking of nature's oft ignored warning where the ocean eerily rushes out and creates an incredibly low tide shortly before a tsunami hits. What would you do if you were standing by the sea and saw this happen?

Recording note: The opening progression on Mellotron is really haunting...but Ken had absolutely no idea what Jimmy was playing!

3. At the start of Flute and Piano, Ken told Jimmy, "C, F, and G, or something, I guess." And so it went. The bizarre thing about this piece is the chord changes and ending were done without any communication aside from the music itself in the headphones. The piece just worked. Coincidence? Telepathy? Kismet? Clean living? (Unfortunately this track was marred by some serious noise, but the editor wanted to preserve it for you as it was recorded because it's a pleasant piece, so Ken did his best.)

While listening I don't sit there thinking, "Jeez, that was a real clam," or, "I wish we had gone somewhere else with this part of the tune instead of where we did," and so on. OK, so I'm not any good technically when it comes to playing keys, but, ya know, in the end, this one's all right for a bunch of old duffers recording in a basement with one rule: There Are No Rules.
- Ken Leonard

4. Track 1 is called that because it's the first track recorded by Jimmy Moore and Ken Leonard--ever. Just Mellotron (Jimmy) and A6/X3 (Ken). No planning, no discussions, no practicing---just playing. At the start Ken reached over and hit the record button on the computer software, and it's a good thing. About 16 minutes later, Jimmy's son Jimmy Jr. came downstairs to the basement to talk to his dad, leaving Ken to finish off the tune (and, as it turns out, the album itself) with some synth solos.
Sound quality note: Some hum, noise, and clicks/pops are present in the original recording. Care was taken to remove the most unpleasant artifacts, but not everything could be quieted without compromising the recording.
How to get your copy of Improvised Waves on CD

Improvised Waves is available for $8US (plus shipping) directly from Ken Leonard. Copies will be shipped world-wide from the US.

Improvised Waves was pressed by Diskfaktory and is a high quality, professionally pressed and printed CD-R that should play in all CD players. Included is a jewel case and artwork. If the CD is not as expected, or if it will not play in any of your CD players, please contact Ken within 30 days of receipt to arrange a return and refund of the purchase price.

<--- Order on-line securely by selecting the quantity you'd like and clicking on "Buy Now" to the left. You will be able to order whether you have an account with the on-line ordering service (PayPal) or not. You can use non-US currencies, and credit cards are accepted. Packaging and shipping (world-wide) is included in the price you see.

The service is provided by PayPal, and you do not need an account with them to use this. When you order, it may say "Quantity 1" on their page, but don't worry--you'll get as many as you order!

Generally I'll get your order out within a few days of receipt--I just need to get to the post office!

<--- US funds are fine, too. Click on the icon to the left for an address to where payment may be sent. Include your name, shipping address, quantity desired, and payment. Please include $8US per CD and $2 shipping for the first CD and $1 per CD after that.

<--- In person works, if you're in the New England area or along for one of my GONewEngland activities. Please e-mail and request the quantity of CDs. There will be no shipping charge.

Thank you for your support!

It is our hope that you enjoy the tracks on Improvised Waves as much as we enjoyed playing them and then putting them together for you.

Please let us know what you think.

- Ken Leonard / Jimmy Moore / Brad Schuman - April 2005
Your thoughts about Improvised Waves?
Ken, Jimmy, and Brad would like to know what you think about Improvised Waves. Click here to visit a page where you can send in some comments. You can send an e-mail with your comments by clicking here.
If you like Improvised Waves, who knows---we may make more!
Contact information:
For more information, send Ken Leonard an e-mail or IM kltron/ICQ 34052014.
Ahem. No, Your Webmaster isn't trying to get top billing. The names are alphabetical. :-)